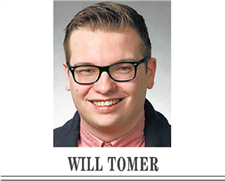 Will Tomer
THE BLADE
Enlarge | Buy This Image
Look at almost any mainstream news website — CNN, CBS News, the New York Times, to cite a few prominent examples — and one story keeps cropping up: The United States is lagging behind Russia in some strategic domain or another.
The stories running on these sites would lead you to believe the U.S. is consistently the underdog, trying to "catch up" with Vladimir Putin's Russia. This argument is deeply flawed. Perhaps more to the point, it serves only to fuel our national paranoia about Russia.
Read last week's column from Will Tomer
For example, in a series of tweets last week, Adam H. Johnson, a contributing analyst for Fairness And Accuracy In Reporting, shared headlines from mainstream outlets promoting the idea that Russia was aggressively outpacing the United States in critical sectors of national defense.
In December, CBS News informed readers that the U.S. Coast Guard was falling "behind Russia in [a] new Arctic arms race." In November, CNN warned that the "U.S. risks losing [the] artificial intelligence arms race to China and Russia." Last week, the New York Times claimed in a sub-head that "Russia has revamped its arsenals; the U.S. has done little in response."
Whether intentional or not, all three of the stories shared by Mr. Johnson — and many more like them — have contributed to a collective hysteria about Mr. Putin's Russia. Readers are led to believe that these pieces document obvious signs of Russian hostility toward the United States, and a U.S. government that is unwilling to respond.
In fact, the U.S. is outpacing Russia in nearly every domain of national security and defense.
To wit, it was recently reported that Russia's current military budget stands at $43 billion, which is the third-highest in the world. In comparison, the U.S. will spend $686 billion on its military. Not only is this the largest military budget of any country in the world, it is larger than the next eight biggest spenders combined.
This competition, which pits the United States against the Russian Federation, feels like something from a bygone era, like a walk down memory lane. That's because it is.
Amplifying tension between the U.S. and the Soviet Union was an integral part of the Cold War, when nervous U.S. government officials regularly cited the "missile gap" as a looming threat. The Soviet Union was outpacing the U.S. production of intercontinental ballistic missiles, U.S. government officials claimed, and they argued that the U.S. needed to build more ICBMs to keep pace. If America did not build those missiles, citizens were told, the country would face destruction. The missile gap, which was a key element of John F. Kennedy's campaign strategy in 1960, was later exposed as a work of fiction, but only after the U.S. had greatly expanded its nuclear arsenal.
The 21st century hysteria over Russia has also led to hyperbole from mainstream analysts and commentators, meant to stir up feelings of hostility and anger. After Special Counsel Robert Mueller indicted 13 Russians and three organizations for interfering in the 2016 presidential election, the Washington Post's Max Boot wrote that this interference — which seems to have consisted mainly of promoting Russian propaganda on various online platforms — was "the worst attack on America since 9/11."
Mr. Boot's comments speak, unwittingly, to the blinding American exceptionalism that helps to drive the national conversation on Russian meddling. The suggestion that a campaign of online trolling compares to the killing of 3,000 civilians, in what for Americans (and jihadists) is the defining moment of the early 21st century, is absurd. It also ignores the sometimes bloody interference by the U.S. in the elections of at least 85 countries since 1945.
None of this is to suggest that concerns about the Russian government's alleged meddling in the U.S. political process are unimportant. On the contrary, there is a broad consensus that Russian efforts to influence the 2016 presidential election were extensive and reprehensible, that serious crimes may have been committed in the process by both Russians and Americans, and that strenuous efforts must be made to prevent any future interference in our elections.
The problem is that a large part of the electorate seems to be living in a Cold War fugue, characterized by fears, both legitimate and misguided, and exploited by politicians and pundits who specialize in the overheated rhetoric and overly broad concepts of political campaigns. These politicians and pundits seek advantage by promoting the idea that the U.S. needs huge increases in defense spending to prevent Russia from subverting our system of government and eventually overpowering us.
That this approach is, under many circumstances, an effective campaign strategy is clear. But it is also clear that it makes for flawed foreign policies, inefficient government, and ultimately counterproductive politics.
This is the lesson of the Cold War. Yes, the "evil empire" did fall. But the Cold War era is by no means an unqualified vindication of American policies. We compromised the principles on which our government is based, and we wasted many lives and a great deal of treasure in overreacting to the threats posed by the Soviet Union.
Suffice it to say we need to learn from those mistakes and invest what we have learned in our current policies. Many say that we have done so, but other observers, including this writer, are prepared to argue that it is not clear whether the lessons of the Cold War have been learned.
Contact Will Tomer at wtomer@theblade.com, 419-724-6404, or on Twitter @WillTomer.
Guidelines: Please keep your comments smart and civil. Don't attack other readers personally, and keep your language decent. Comments that violate these standards, or our privacy statement or visitor's agreement, are subject to being removed and commenters are subject to being banned. To post comments, you must be a registered user on toledoblade.com. To find out more, please visit the FAQ.