LONDON — The wedding of Britain's Prince Harry to Meghan Markle on Saturday includes a surprising number of firsts for a royal family so steeped in ancient tradition.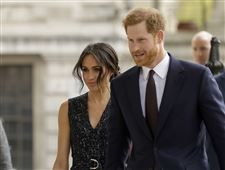 The nuptials of Britain's Prince Harry and his fiancee Meghan Markle are allowed to depart from tradition because it is unlikely that Prince Harry ever will be king.
ASSOCIATED PRESS Enlarge
It is not just that Harry, grandson of Queen Elizabeth and sixth in line to the throne, is marrying an American divorcee who describes herself as "biracial." (Ms Markle's mother is African-American; her father is of Dutch-Irish heritage).
Nor that she is a successful actress, United Nations Women's Advocate, and celebrity in her own right marrying into one of the oldest royal families in the world.
Those facts underline the transition under way in The Firm, as the royals are sometimes known. The 92-year-old monarch, Queen Elizabeth, is scaling back her public duties. Her 96-year-old husband, Prince Philip, officially has retired. A younger, more modern generation is stepping into the spotlight — and they are doing it on their own terms.
Take Saturday's wedding ceremony at St. George's chapel and the reception afterward in St. George's Hall, both on the grounds of Windsor Castle, one of the queen's official homes.
Out goes the heavy, icing-clad fruitcake traditionally served at royal nuptials. Instead, an "organic lemon elderflower bake" has been ordered from a California-born pastry chef working in London's trendy East End. It will be covered with butter cream and decorated with fresh flowers.
State Trumpeters in gold embroidered frock coats still will provide ritual fanfares. Members of some of Britain's best orchestras will provide much of the music during the ceremony. But so, unusually, will a gospel choir specially selected by Prince Harry and his bride. And 19-year-old cellist Sheku Kanneh-Mason, the first black winner of the United Kingdom's Young Musician of the Year competition, also will perform.
As expected, the Archbishop of Canterbury, Justin Welby, will officiate when the couple say their vows. But in another departure from tradition, an American bishop, the Most Rev. Michael Curry, will give the address.
He is the first African-American presiding bishop in the Episcopal Church.
"Right at the start, the couple said they wanted to make this a more inclusive event," says BBC Royal correspondent Jonny Dymond, "and they have done a lot to make that happen."
Mr. Dymond points to the 1,200 members of the public invited into the grounds of Windsor Castle, 22 miles west of London, for the day. These include injured veterans, people running nonprofit organizations, and young activists in disability-rights campaigns. All were hand-picked by the offices of the Lord Lieutenants, the monarch's personal representatives at the county level throughout the United Kingdom.
They won't be present in the chapel for the ceremony, but they will gather outside to watch the newlyweds set off on a carriage tour of the streets of Windsor before the official reception. (A handful of them grumbled to the press when advised to bring picnics. They will not be provided with food.)
Details of those lucky enough to be in the chapel alongside members of the Royal Family are still under wraps. About 600 invitations were dispatched in late March. Speculation has been considerable about which of Ms. Markle's celebrity friends received one of the coveted gold-and-black burnished cards.
Tennis star Serena Williams and actress Priyanka Chopra are thought to be on the list. Members of 1990s pop group The Spice Girls have hinted they will be there. Elton John, who sang at the funeral of Prince Harry's mother, Diana, Princess of Wales, has canceled two Las Vegas concerts scheduled for this coming weekend. Coincidence? Not according to reports that he too will be among the guests.
On Prince Harry's side, the congregation will be his late mother's brothers and sisters and members of the armed forces who served alongside him in Afghanistan. His older brother, Prince William, will be best man.
It is still unknown if Ms. Markle's father, Thomas Markle, will walk her down the aisle as he has reportedly suffered a heart attack.
In a break with tradition, Ms. Markle's mother, Doria Ragland, will have a role. She will travel with the bride to St. George's chapel on Saturday morning. Ms. Markle will have no maid of honor.
Also conspicuously absent from the festivities will be any members of the political class — from the U.K. or abroad. Even Prime Minister Theresa May has been left out. A spokesman for Prince Harry said it had been decided that inviting political leaders "is not required."
That is quite a contrast to the wedding of Prince William and Kate Middleton in 2011. Then, the nearly 2,000 guests at Westminster Abbey included members of the U.K. government and numerous foreign dignitaries.
But unlike his older brother, second in line to the throne, Prince Harry is unlikely ever to be King. He has greater license therefore to bend or break with protocol. His bride is from a very different background to his, and together, they are promising a wedding that mixes the old with the new.
In the process they are aiding the transition of the royals from tradition-bound, aristocratic, and entirely white institution to something that more closely reflects the diverse Britain of today.
"Every royal wedding is different, and each is an opportunity to in some way re-launch the royal family," said the BBC's Mr. Dymond. He points out that occasions of this sort attract wide global attention and make the wedding, "a great opportunity to say, 'this is what the royal family are these days.'"
The royals, however, will be sure to stick to one ancient custom.
Despite the fairy-tale castle wedding to her prince, Ms. Markle will not leave Windsor a princess. The title can only be used by those of royal blood. Queen Elizabeth may have given approval to the gradual modernization of the royal family, but that is one tradition unlikely to change.
Claire Bolderson is a British journalist and documentary maker with more than 25 years of experience at the BBC. She wrote this for the Block News Alliance, which consists of the The Blade and the Pittsburgh Post-Gazette.
Guidelines: Please keep your comments smart and civil. Don't attack other readers personally, and keep your language decent. Comments that violate these standards, or our privacy statement or visitor's agreement, are subject to being removed and commenters are subject to being banned. To post comments, you must be a registered user on toledoblade.com. To find out more, please visit the FAQ.