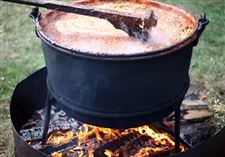 Applebutter bubbles from the heat during the Applebutter Festival last year in Grand Rapids, Ohio.
The Blade
Enlarge | Buy This Image
The Applebutter Fest in Grand Rapids, Ohio, is back for its 42nd year on Sunday. In addition to making and enjoying apple butter, highlights of the festival include historical re-enactments, pioneer demonstrations, crafts, live music, food, and family friendly activities.
Festivities take place along the Maumee River in Grand Rapids between 7 a.m. and 5 p.m. Admission is free; parking is $15 per vehicle, which covers operating costs of the festival.
For a venue map or more information, go to applebutterfest.org.
■ The Oak Harbor Apple Festival welcomes guests for a 40th year on Saturday and Sunday.
A royal court will be crowned at 9 a.m. Saturday, followed by a grand parade at 2 p.m. and family friendly activities throughout the day. "Applepalooza" begins at 8 p.m. with live bands and a beer tent; Applepalooza admission is $5. A pie-eating contest, 5-K run and walk, and car show are among the highlights on Sunday.
For a full schedule and more information, go to oakharborohio.net/​events/​apple-festival. Hours begin at 9 a.m. Saturday and 10:30 a.m. Sunday. Festival admission is free.
■ It's time for the Halloween edition of a quirky craft show. Oddmall: Hallowondrous brings artists and vendors to the SeaGate Convention Centre on Saturday and Sunday, as well as live entertainment, trick-or-treating and games, activities and attractions based on monsters, makeup, and more.
Oddmall runs 10 a.m. or 6 p.m. Saturday and 10 a.m. to 5 p.m. Sunday. The convention center is at 401 Jefferson Ave. Admission is free.
For more information, go to bit.ly/​2C3HiCm.
■ Metroparks Toledo hosts a Spooktacular Shoot between 6 and 10 p.m. Friday and Saturday at Westwinds Metropark in Springfield Township. Flashlights, headlamps, and costumes are encouraged at the Halloween-themed archery shoot.
Those with their own equipment can test their skills on a zombie course. Gear will be provided to beginners ages 8 and older on a static range. Snacks and a campfire are also provided.
There is no cost to attend. Westwinds Metropark is at 9918 Geiser Rd., Springfield Township. For more information, go to bit.ly/​2A0SlKV.
Guidelines: Please keep your comments smart and civil. Don't attack other readers personally, and keep your language decent. Comments that violate these standards, or our privacy statement or visitor's agreement, are subject to being removed and commenters are subject to being banned. To post comments, you must be a registered user on toledoblade.com. To find out more, please visit the FAQ.