No sentence makes me more incensed in 2018 than "not everything needs to be political." In a year where discussions on sexual assault, racism, and gender are a daily part of the zeitgeist, it feels irresponsible to say these things have no place in our entertainment.
A contentious minority of gamers have been especially sensitive to politics being included in their medium of choice since 2014's "Gamergate" controversy began — a blatant harassment campaign directed at women in the industry, as well as at issues of gender, inclusivity, and progressivism. The pangs of the resentment dredged up from Gamergate linger on today, especially when any developer, publisher, or game brings up modern political issues in its work.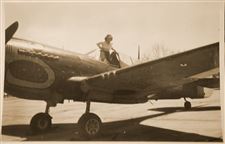 Leona Zimmer in a P-40 at Napier Field, Dothan, Alabama.
THE BLADE
Enlarge | Buy This Image
Multiple controversies have occurred as games become more inclusive and diverse. This vocal minority claims this is part of a takeover of "their" industry; one that used to cater almost exclusively to young white males. A backlash against social politics continues; there seems to be no limit to complaining about the mere mention of inclusiveness.
One of the recent controversies involve EA's decision to include women and people of color in the upcoming Battlefield V. Forum posts and article comments decry the inclusion of women in the World War II-set shooter, posed as a concern for historical accuracy. Hysterical fans complained on Twitter that women weren't involved in combat and that the inclusion is a marketing ploy.
This complaint is farcical; not only did women take part in the war effort, but there are even a few local examples. Leona Golbinec — later Leona Zimmer after she married — was a Rossford native who served as a WASP (Women's Airforce Service Pilot), a fleet of about 1,000 certified pilots pulled from more than 25,000 applicants. Zimmer received a Congressional Gold Medal in 2010.
Evangelene "Van" Miller of Norwalk, Ohio, was an officer in the Women's Auxiliary Army Corps. Miller was commander of the corps' detachment to the 9th Air Division in Europe during the Battle of the Bulge, for which she was awarded a Bronze Star.
If this minority of gamers were truly concerned about the preservation of historical accuracy, then you think they would have been upset about 2017's Call of Duty: WWII, which allowed players to open digital loot boxes on the shores of Normandy. Perhaps I missed that moment in Ken Burns' 2007 documentary The War.
Unfortunately, this whirling dervish of hurt feelings and immaturity strikes again thanks to the release of Life Is Strange 2, developer DontNod and publisher Square-Enix's follow-up to the award-winning 2015 game Life Is Strange. Life Is Strange is also The Blade's 2015 game of the year.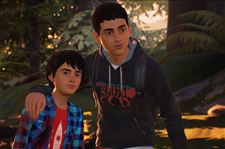 Daniel and Sean from Life is Strange 2
Life Is Strange 2 wears politics on its sleeves, unapologetically confronting the audience with violence and racial bias ripped straight from recent headlines. The game opens in a sleepy community in Seattle and main character Sean Diaz, a 16-year-old Latinx youth who is mostly concerned with girls, school, and partying. The game starts off in typical Life Is Strange fashion: talking to other characters, making choices that affect the story, and picking up info about Sean through artifacts like emails or letters.
In an instant, developer DontNod exploits the trappings that Life Is Strange is known for and turns everything on its head. Sean's father is shot and killed by a white, panicked police officer who shows up to the scene of a fight between Sean and a neighbor who is bullying Sean's younger brother Daniel.
The game follows Sean and Daniel on the run from the law, attempting to survive. Life Is Strange 2 promises to dissect the interactions and realities of a country where a person of color is looked at as the dangerous "other" in many predominantly white areas.
I applaud the developer for not only refusing to shy away from these topics but decidedly taking a side and refusing to "both sides" the discussion to appease those who may be offended by the reality it portrays. Too often consumers say they just want their entertainment to be free of politics as a way of not confronting their own biases and privileges.
More games need to be willing to amplify the voice and plight of the disenfranchised and abused. I look forward to seeing where the next four episodes of Life Is Strange 2 go from here.
Late in the game, a character tells Sean that "everything is political, always." If we are to create any semblance of coming together as a country we first have to start by having our entertainment reflect the discourse we ourselves seem to be unable to have. These stories and conversations are uncomfortable, but if we can't talk about the realities of the day in our stories and games, then how can we ever openly discuss them in the real world?
After all, everything — especially the real world — is political.
Contact William Harrison at DoubleUHarrison@gmail.com or on Twitter @DoubleUHarrison.
Guidelines: Please keep your comments smart and civil. Don't attack other readers personally, and keep your language decent. Comments that violate these standards, or our privacy statement or visitor's agreement, are subject to being removed and commenters are subject to being banned. To post comments, you must be a registered user on toledoblade.com. To find out more, please visit the FAQ.