WEEKENDER I MOVIES
'Black Panther' pounces on top of a crowded superhero universe
2/14/2018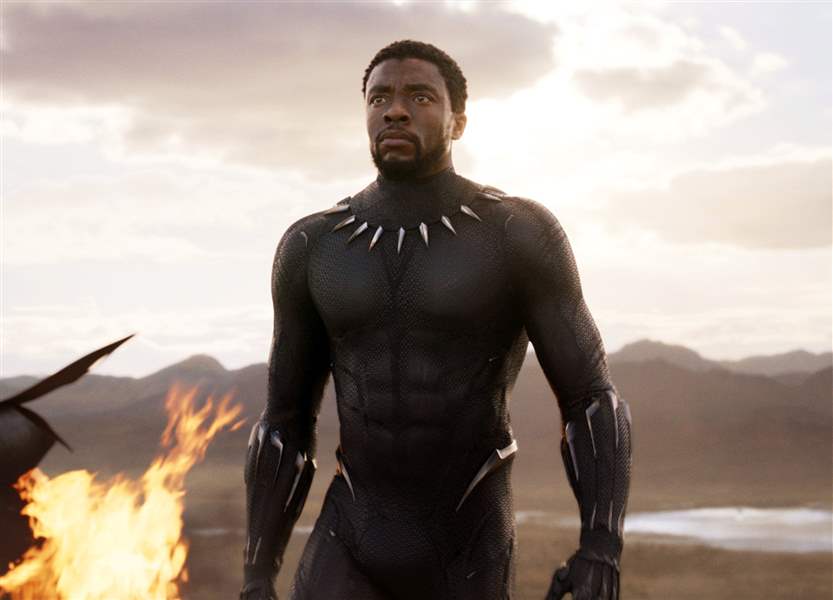 This image released by Disney and Marvel Studios' shows Chadwick Boseman in a scene from "Black Panther."
ASSOCIATED PRESS
'Black Panther'
Directed by Ryan Coogler. Screenplay by Coogler and Joe Robert Cole. A Marvel release playing at Franklin Park, Fallen Timbers, Levis Commons, Bowling Green, and Mall of Monroe. Rated PG-13 for prolonged sequences of action violence and a brief rude gesture. Running time: 174 minutes.
Critic's rating: ★★★★½
Cast: Chadwick Boseman, Michael B. Jordan, Lupita Nyong'o, and Andy Serkis.
Black Panther isn't just the Marvel superhero film we need. It's the superhero film we want.
And, likely, one that many will want to see again.
A James Bond-like action thriller with gadgets, international heists, and memorable villains, but with a social awareness and cause, Black Panther is the most original Marvel superhero film since Guardians of the Galaxy, its best superhero debut since Iron Man, and its best overall superhero film since the original Avengers.
TRAILER: Black Panther
Introduced onscreen two years ago in Captain America: Civil War after the murder of his father in a terrorist bombing, the cool and mysterious Black Panther more than held his own against Marvel's elite — in combat and verve — and stood out in a film crowded with superheroes.
In his solo outing, we learn the Black Pather's backstory as T'Challa (Chadwick Boseman), the former prince and newly crowned king of the African nation of Wakanda, the most technologically advanced country in the world, and the most guarded, with much of it hidden behind a protective camouflaged dome from the outside world.
In a long line of Wakanda's kings, T'Challa was endowed with superhuman strength and agility so that he could become the Black Panther, the nation's protector.
And with the return of the crazed British mercenary Ulysses Klaue (played with manic gusto by Andy Serkis), who discovered Wakanda years ago and proceeded to kill many of its citizens, he leads his warrior general, Okoye (Danai Gurira), and ex-girlfriend, Nakia (Lupita Nyong'o), a spy for Wakanda, on a mission to apprehend him.
In keeping with Marvel's themes of strong female heroes, Nyong'o as a hero who puts cause before country and Gurira as a hero who puts country before cause are vibrant and memorable; the battles they join are fierce and packed with action. But the outcome is not so easy, especially with a former soldier-turned ruthless killer named Erik Killmonger (Michael B. Jordan who goes under-the-table rather than over-the-top) in Ulysses' employ and who has his own issues with Wakanda.
On the good guys' side, at least, is CIA agent Everett Ross (Martin Freeman) and T'Challa's gadget-minded sister, Shuri (Letitia Wright), sort of the Black Panther's Q, who provides cool gadgets to the Black Panther along with sarcasm. T'Challa's mother, Queen Ramonda (Angela Bassett) and Wakanda priest named Zuri (Forest Whitaker) have smaller but important parts to play in the story.
But Black Panther belongs to Boseman (42, Marshall). An easy and natural fit for the role, much like Robert Downey, Jr., is to Iron Man, Boseman is as convincing with the Black Panther's punches and kicks as he is T'Challa's struggles to be a more humane leader, particularly as it relates to doing more to help others.
As the first solo black superhero film since Wesley Snipes' vampire hunter Blade debuted 20 years ago, Black Panther carries significant weight and director and co-writer Ryan Coogler is emboldened by it.
Socially relevant without being preachy, action packed without being dumb, Black Panther is the intersection of the brilliant young filmmaker's previous works of cause and culture: the powerful 2013 biography Fruitvale Station, about the last hours of Oscar Grant, who died after being handcuffed and shot by a Bay Area Rapid Transit police officer in 2009, and 2015's crowd-pleasing Rocky sequel, Creed.
Not since Christopher Nolan's The Dark Knight Rises has a superhero film so openly expressed politics — not so much ideology but a cultural mood — and taken so many chances.
Contact Kirk Baird at: kbaird@theblade.com or 419-724-6734.