Symphony steps up to deliver despite struggle between soloist, orchestra
1/13/2018
Neither rain, nor snow, nor sleet could keep the Toledo Symphony from their appointed duty: last evening's first Classics Concert of the new year. Those who braved the elements were treated to a pleasant evening, which if not artistically the apex of the season, was nevertheless worthy of the hibernal struggle.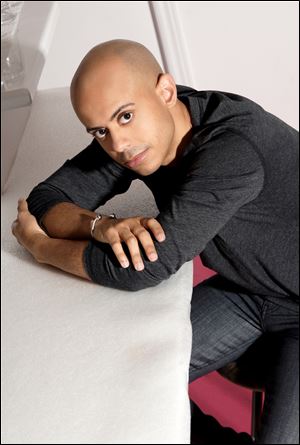 Pianist Stewart Godyear will join the Toledo Symphony for an evening a Beethoven and Brahms again at 8 p.m. Saturday at the Peristyle.
Canadian pianist Stewart Goodyear opened as soloist in Beethoven's Piano Concerto No. 5. He is a technically fluent pianist with a wide timbral vocabulary: Heroic ringing chords, silken smooth scales, and an almost laser-sharp trill.
The orchestra, under the baton of guest conductor Giordano Bellincampi, supported with a sensitivity and verve that was directed and intentional in its breadth.
The problem came, however, when the two artistic forces met on the battlefield of Beethoven, which unfurled with an inconsistent artistic vision.
There were persistent problems with balance; not in the typical manner of the soloist being lost, but rather the opposite. Goodyear, at times, obliterated the orchestra. His ability to ping a melodic line was at times so bright as to be in direct conflict with the established texture.
Bellincampi, attempting to ensure the soloist's prominence, held the orchestra back to the point that Beethoven's intended dialoguelike interplay was lost in a one-sided conversation. In the second movement, precision problems with the lower strings sounding consistently a millisecond behind the trebles created an unsettling sonic lag.
Finally, Goodyear's penchant for shifting tempi midline and blurring beat structure to make an artistic statement created an unsteady rhythmic underpinning, pushing Beethoven into the realm of Chopin. The listener was left uneasy, wondering if things were about to fall apart.
Kudos to Bellincampi for keeping the orchestra steady and together in spite of this. Overall, it was a commendable performance.
The second half, however, proved a triumph. Bellincampi led the orchestra through a clearly defined and heroic Brahms's Symphony No. 2. The first movement was in a word Brahms: solid, well-handled, well-played.
The second, however, began a magical transformation, unfolding brilliantly: sophisticated and poignant; hornist Megan Shusta's solos the highlight.
The third encapsulated a shimmering diamond with oboist Kimberly Loch's sensitive lines reflected off a palate of delicate strings, so subtly shaded that it was nothing less than tender perfection.
Finally the fourth blazed with fire. Maestro Bellincampi's artist vision was a perfect capstone, worth every bit of the trek through ice and snow.
The concert will be repeated 8 p.m. Saturday in the Toledo Museum of Art Peristyle, 2445 Monroe St., Toledo. Tickets and more information 419-246- 8000 or toledosymphony.com.
Contact Wayne F. Anthony at: classics@theblade.com.