Since Christmas, the Toledo area has been stuck in an 11-day deep freeze of single-digit temperatures, pushing home heating systems and water pipes to the brink and running heating repairmen and plumbers into exhaustion.
"My guys are running ragged right now. They're very, very busy," said Dave Overfield, president and CEO of Pugh Heating and Air Conditioning of Holland. "We try to control it, because I don't want to burn anyone out. But my on-call guys normally work till midnight and the other night I had guys out until 3 a.m. They were out until 8 a.m.," Mr. Overfield said.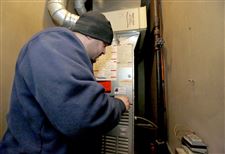 Tim Nowak of Bob's Home Heating diagnoses a problem with a furnace that needs to be repaired at a home in Oregon.
The Blade/Amy E. Voigt
Enlarge | Buy This Image
According to the National Weather Service office in Cleveland, on Dec. 25 the Toledo-area temperature dipped to 10 degrees, and the next evening it went to 1 degree. The area low temperature has been in single digits or below zero every day since, which puts an extreme strain on heating systems, specialist said.
RELATED: Cold snap causes more headaches in northwest Ohio
"They are breaking down more because they are running constantly. Most of the time when we install new furnaces, we basically size them to run at an outdoor temperature of zero degrees," said Spiros Theodorou, office manager of Maumee Valley Heating & Air Conditioning.
"That means the last several days they are running at their full capacity. They're not shutting off. And that's when you have the breakdowns. If you haven't had maintenance done on them in some time, you're putting more strain on them," Mr. Theodorou said.
"I always tell people to plan ahead. Have a couple of electrical space heaters in your home. Keep a couple on hand. If worst comes to worst, they can get you by for a couple of nights," he said. "Put one in the basement to prevent pipes from freezing and one for above floors."
Frozen pipes are a huge threat if a furnace goes out, and with the extended single-digit temps, those threats have become frequent realities.
Eric Wagner, a fourth generation master plumber and owner of Pipe Doctor Plumbing and Heating of Perrysburg said the key thing a homeowner should know is how to shut off the home's water system if pipes should freeze.
"Know how to shut your water off and make sure it stays off until someone can get there," he said.
But it may take a while for help to arrive.
"Demand has been extremely high this year. I don't think we've seen this kind of demand in a couple of years," Mr. Wagner said.
At least two other plumbing firms in Toledo said Friday they were so busy they had no time to talk to a reporter.
"We've had all of our trucks out. It almost seems like we don't stop," Mr. Wagner said. "We've been going up to three or four o'clock in the morning on many jobs. On Christmas night we were out until 3 a.m., then out the whole next weekend," he said.
The cold has been so intense that Mr. Wagner said pipes are freezing deep into the ground — an unusual occurrence. "We've had water lines four feet deep freezing. Water lines, sewer lines, other lines."
Sherry Jones, owner of Bob's Home Service in Northwood, a furnace installation and repair firm, said what's different about now compared to other years is the urgency by the callers because of extreme cold.
"It's the same kind of panic you get in the summer when it's really hot and the air goes out. When it's this cold, people really panic," Ms. Jones said. "We'll say we can be there between 1 and 4 p .m. and they'll call another company in order to get someone there between 9 and 11.
"People tend to give you a little more grace when it's in the 20s and 30s," she said. "At these temperatures, every call becomes urgent. That's what it boils down to."
Tina Scott, parts and inventory control manager at Fry Heating, Cooling, and Plumbing, said the sad fact of the matter is that not everyone can be accomodated in these circumstances.
"Our guys are running anywhere from eight to 12 calls a day. We're trying our best, but the ones you feel sorry for are the ones who can't get anybody to come out. They'll say, 'I've called everybody and I can't get anybody to come out,'" Ms. Scott said.
"I believe every heating and cooling company is so busy and overwhelmed right now that it's to the point where your days and nights are filled up," she said. "Our guys are tired. Some are putting in anywhere from 10 to 14 hour days and some of them 16 hour days."
Though he's now owner of Pugh Heating and has seven service techs, Mr. Overfield said he too has had to go out on jobs just to meet demand, mainly by warranty and contract customers.
"There's that fine line. You've got to be careful with your workers. You don't want to burn them out, but you also want to serve the public," he said.
Contact Blade Business Writer Jon Chavez at jchavez@theblade.com or 419-724-6128.
Guidelines: Please keep your comments smart and civil. Don't attack other readers personally, and keep your language decent. Comments that violate these standards, or our privacy statement or visitor's agreement, are subject to being removed and commenters are subject to being banned. To post comments, you must be a registered user on toledoblade.com. To find out more, please visit the FAQ.