When baseball returns to Fifth Third Field in the spring, it will include a new dining experience to replace NINE restaurant.
NINE, one of two restaurants that opened in 2016 in the Hensville complex next to the ballpark, has closed and will reopen in several months with a new name, said Chris Shannon, the Toledo Mud Hens' director of operation for food and beverages.
"We are rebranding that space to be a kind of a different concept than what it was," he said.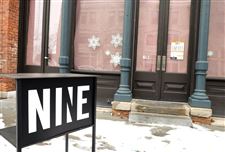 The restaurant Nine at Hensville in downtown Toledo has closed for a 'rebranding' and will reopen in the spring.
The Blade/Jetta Fraser
Enlarge | Buy This Image
The type of dining and the new name for the restaurant are still up in the air.
"We have a few ideas we are tossing around. We are not prepared at this point in time to reveal the final product. We will be issuing further commentary and statements once we get closer to our target launch," Mr. Shannon said.
Mr. Shannon assured the new restaurant would be ready for customers before opening day April 12, but would not promise its opening for the Toledo Warehouse District's St. Patrick's Day celebration.
"I know how important St. Patrick's Day is for the Warehouse District. But I can't commit to a solid opening date at this point," he added.
NINE and Fleetwood's Tap Room, which is across St. Clair Street, were part of the Hensville entertainment complex that opened to the public shortly before opening day in 2016.
The $21 million mixed-use development of restaurants, offices, and event space was created by using state and federal historic tax credits and new market tax credits to refurbish old buildings, including a pair that date back to the 1880s.
Mr. Shannon said there will be no major changes made to Fleetwood's.
"We have a couple minor adjustments we are going to make. But it will remain open while NINE is being rebranded. We think fans and patrons alike will be excited with the changes we are going to bring," he said.
Contact Mark Reiter at markreiter@theblade.com or 419-724-6199.
Guidelines: Please keep your comments smart and civil. Don't attack other readers personally, and keep your language decent. Comments that violate these standards, or our privacy statement or visitor's agreement, are subject to being removed and commenters are subject to being banned. To post comments, you must be a registered user on toledoblade.com. To find out more, please visit the FAQ.