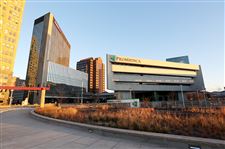 ProMedica headquarters as viewed from Promenade Park in downtown Toledo.
THE BLADE/DAVE ZAPOTOSKY
Enlarge | Buy This Image
For the fourth consecutive year, Toledo-based health-care provider ProMedica has been named to the 2018 edition of the top 150 places to work in health-care, an annual list compiled by industry-information specialist Becker's Healthcare, of Chicago.
According to Becker's Healthcare, which describes itself as an information and media platform in the health-care sector, the list "highlights hospitals, health systems and healthcare companies that promote diversity within the workforce, employee engagement and professional growth."
Randy Oostra, ProMedica's president and CEO, said in a statement, "Being listed on Becker's 150 Top Places to Work in Healthcare another year is a fantastic recognition for ProMedica. As an anchor institution in the community, we pride ourselves on being a top employer."
ProMedica was included on the list for offering its employees a wide array of benefits, including a comprehensive wellness program through which employees receive discounted fitness center memberships, weight loss program reimbursement, on-site workout rooms, sit-stand workstations, stress management resources and more.
In its comments section, Becker's Healthcare noted that ProMedica was ahead of Microsoft, Apple, LinkedIn and Walt Disney on Forbes magazine's 2017 Best Large Employers.
"ProMedica markets itself as an 'Irresistible Workplace,' going beyond the standard benefit packages to offer employees tuition assistance, continuing education, financial assistance and several wellness programs," Becker's stated.
The Chicago firm also took notice of ProMedica's active role in the community by offering several youth professional development programs annually.
"ProMedica also has an incredibly active employee recognition program. Hosted online, any employee can recognize a coworker for any achievement. In 2017, 94 percent of ProMedica's workforce was recognized with 100,892 eCards and 5,602 awards," Becker stated.
Guidelines: Please keep your comments smart and civil. Don't attack other readers personally, and keep your language decent. Comments that violate these standards, or our privacy statement or visitor's agreement, are subject to being removed and commenters are subject to being banned. To post comments, you must be a registered user on toledoblade.com. To find out more, please visit the FAQ.