In 2015, Tom Klein, a soft-spoken man who enjoys E.E. Cummings poetry and has passionate views about the environment, decided he wanted to be more socially responsible when it came to investing his money.
"Tom came to me and he asked me, 'Can we build a portfolio that represents my belief in being environmentally conscious?'" said Josh Mudse, Mr. Klein's financial adviser.
"I had not built one, but at our firm we build portfolios regularly for clients that have a faith-based perspective. … And I knew it was possible certainly to do an environmental portfolio. So it was a great task to research," said Mr. Mudse, of Munn Wealth Management in Maumee.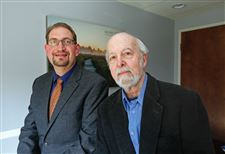 Financial planner Josh Mudse, left, and Bowling Green State University Professor Emeritus Tom Klein are planning an upcoming event at Bowling Green State University to teach people how to invest in a socially responsible manner.
The Blade/Jetta Fraser
Enlarge | Buy This Image
SRI, or Socially Responsible Investing, is a fast-evolving investment strategy that has grown 184 percent in just six years.
Also known as Sustainable Investing, Responsible Investing, Impact Investing, and now branching out into a subset called ESG (for Environment, Social Justice, and Corporate Governance), the strategy lets investors place their money in investments more closely aligned to their personal beliefs or moral values.
"I would bet that 95 percent of people who own mutual fund stocks and bonds would have no idea what those funds invest in," Mr. Klein, a Bowling Green State University professor emeritus of English, said. "What I'm advocating is financial literacy. We need to know what kind of power our money is promoting and what kind of values it is supporting."
To shed light on the topic, Mr. Klein, Mr. Mudse, and two other BGSU educators — Enrique Gomez del Campo, a professor of environmental sustainability, and Neocles Leontis, a professor of chemistry — organized a SRI symposium to be held from 7:30 to 9:30 p.m. April 24, in the Bowen-Thompson Student Union.
The event, part of BGSU's Earth Week activities, will feature a panel and breakout discussion.
The keynote speaker will be Amy Dine, a partner and director of advocacy at Terra Alpha Investments, a Washington D.C.-based advocacy investment firm that promotes sustainability strategies aligned with improving the environment.
According to industry association US SIF: The Forum for Sustainable and Responsible Investment, in 2010 there were $3.07 trillion in U.S.-domiciled assets under fund managers who employed SRI strategies.
But as of the start of 2016, socially responsible investing has soared to $8.72 trillion — or 21.6 percent of the total $40.3 trillion U.S. assets that are professionally managed, according to US SIF's most recent estimates.
There are at least 1,043 investment funds that apply various environmental, social, and governance "screens" to shape their investment portfolios.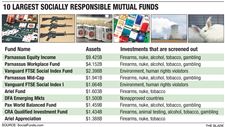 THE BLADE
Enlarge | Buy This Image
Ten years ago a socially conscious investor could craft a portfolio that screened out companies involved in things like weapons manufacturing, nuclear power, pollution, animal testing, worker exploitation, or "sin activities" like tobacco, alcohol, and gambling.
Today portfolios can be more proactive, choosing companies that are environmentally conscious, involved in alternative energy, promote worker welfare, or are involved heavily in communities.
Increasingly data is showing that the financial returns on such investments are equal — and sometimes above — what can be achieved with a standard portfolio.
Ms. Dine said the basic message she'll convey to those attending the symposium is, "People can invest aligned to their values and get good returns. You don't have to separate those models now."
Additionally, Ms. Dine said, socially responsible investing has evolved rapidly in just the last few years and is starting to affect real social change.
"The industry is kind of moving, and instead of 'taking-out' options, it's moving towards 'decision-making' options," Ms. Dine said. "That shift has taken place over the last 10 to 15 years, but it's really accelerated in the last five years."
Investment fund managers are using new sources of information to help them identify and target companies involved in better practices, she said.
"The advocacy portion of this is trying to make companies be more responsible, treat employees well, think about diversity among employees, think about environmental impacts, and be more efficient with them. It's all good for business," she said.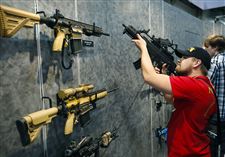 Less than two weeks after a shooting at a Florida high school, Kroger, Walmart, and Dick's Sporting Goods all announced new restrictions — or bans — for AR-15-style rifles.
ASSOCIATED PRESS Enlarge
On Feb. 14, a teenager using an AR-15 semiautomatic rifle killed 17 people at a high school in Parkland, Fla. Less than two weeks later, Kroger, Walmart, and Dick's Sporting Goods all announced new restrictions — or bans — for AR-15-style rifles at their stores.
Last month the world's largest asset manager, $6.3 trillion BlackRock Inc., announced it was expanding its SRI footprint at the request of clients who wanted to screen out gun makers and retailers that sell guns.
New York-based BlackRock announced it was starting two new electronically traded funds (ETFs) that will include screens to exclude "all producers and large retailers of civilian firearms."
BlackRock said also it added screens to six existing ETFs to exclude "retailers of civilian firearms if they earn 5 percent or more in revenue, or more than $20 million in revenue, from civilian firearms-related products."
In a column for investment website Seeking Alpha, one financial adviser noted that BlackRock's new funds would exclude Walmart, Kroger, Sturm Ruger, American Outdoor Brands, and Dick's Sporting Goods.
Mr. Mudse said BlackRock's quick decision on a controversial subject like gun sales means that socially conscious investing will be a force in future.
"I would read into this that there will be demand and it would certainly suggest that people are starting to take control of their portfolios," he said.
Ms. Dine said another factor pushing socially responsible investing is shareholder activism.
"I think shareholder activism has been there over the last 40 years in one form or another. But it's only in the last few years that some of these issues on the environment and climate change have been reacted to and addressed," she said.
For example, a recent shareholder proposal on reducing and recycling environmental waste at Starbucks Corp.'s annual meeting was defeated, but then the company announced afterward that it had a plan to fix the problem.
"Instead of dealing with the proposal, they came out with their own solution," Ms. Dine said. "I think it's a recognition they're getting this pressure from several directions. They're getting it from their shareholders but also from the asset managers."
Mr. Klein said he started thinking about taking more control of his investments after reading a column by former Vice President Al Gore.
The professor emeritus said he contacted Mr. Mudse about re-examining his portfolio and asked whether it could be reshaped to avoid companies that do not treat their employees fairly or don't use sustainable practices.
"We looked at BlackRock, and it went from there," Mr. Klein said.
Mr. Mudse said the great thing now is there are so many options for the socially responsible investor.
"The point is, you can do well by doing good," Mr. Mudse said. "You're not at a point anymore where you're giving up investment returns in order to build a custom portfolio that aligns with your values."
Contact Jon Chavez at jchavez@theblade.com or 419-724-6128.
Guidelines: Please keep your comments smart and civil. Don't attack other readers personally, and keep your language decent. Comments that violate these standards, or our privacy statement or visitor's agreement, are subject to being removed and commenters are subject to being banned. To post comments, you must be a registered user on toledoblade.com. To find out more, please visit the FAQ.