Paul Pellioni stands in the cavernous shipping bay of Toledo Mirror and Glass Company's headquarters, sheets of laminated and plate glass lining the tall gray walls.
Rock music wafts in from the fabrication shop, where Tim Smith drills together a door frame. Desmond Alcock, stationed at the table in the specialty room behind Mr. Pellioni, sets a sheet of laminated glass aflame so he can cut it cleanly.
The bay, in comparison, is quiet. That's just the way Mr. Pellioni, the company's vice president and co-owner, likes it.
"When I see people walking around here, I get nervous," he said. "We don't make a lot of money in this building. We make our money out in the field."
WATCH: Toledo Mirror and Glass celebrates 100 years
This marks a stark shift from times of old at Toledo Mirror and Glass, which marks its centennial this year. Back in the 1920s, that vehicle bay would've been bustling. In its early years, the company primarily served as a distributor for Libbey-Owens-Ford, shipping glass all over the country. LOF's plant in Rossford was one of the first to develop float glass — which is solidified on molten metal, producing a uniform thickness — and demand was high.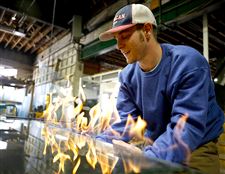 Desmond Alcock, a second generation apprentice, lights a part of a glass on fire pane to cut it down at Toledo Mirror and Glass in Toledo on Thursday. He's using the fire to get through the laminate layer in this particular pane of glass.
THE BLADE/KURT STEISS
Enlarge | Buy This Image
The company doesn't act as a distributor anymore. While it also made its name as a silverer, treating glass chemically to produce mirrors, the only mirrors Toledo Mirror and Glass makes nowadays are for loyal partners and special events. Building on decades of change, Mr. Pellioni and President and co-owner James Nicholson have modernized operations in the office and on the shop floor, turning Toledo Mirror and Glass into the premier glazing company in the region.
As a subcontractor they've installed glass for ProMedica's Steam Plant headquarters and Health and Wellness Center, the Glass Pavilion at The Toledo Museum of Art, University of Toledo's Savage Arena, the Stroh Center at Bowling Green State University, Hollywood Casino, and schools and hospitals around the region. They're currently working on Toledo Lucas County Public Library's new Mott Branch building. If there's a glass-faced building in the Toledo area, it's a good bet Toledo Mirror and Glass had a hand in putting it together.
"We like to think our specialty, a thing we hang our hat on, is curtain walls," Mr. Pellioni said.
The ProMedica Steam Plant is a prime example. For big facades like that one, the company often has to construct interlocking curtain wall systems able to withstand the wind and rain. The company could design a curtain wall going up 30 stories, Mr. Nicholson said, although the most they've done is eight.
Mr. Nicholson and Mr. Pellioni bought the company in 2006 from the trust of F. Edward Walters, who was at the company for 67 years, starting out as as shop worker and later serving as owner and president until his death in 1987. They both came from outside the glass industry. Mr. Pellioni at Hause Machines Inc., and Mr. Nicholson at Ebony Construction.
Mr. Nicholson's construction expertise helped them modernize the company. They implemented a computer tracking to load and track projects, reshaping the company's business operations. Technology has changed things on the shop floor, too. Employees like Mr. Smith, who runs the fabrication shop, now use a computerized positioner to cut glass sheets.
Some things, however, remain unchanged. The company has occupied the same red-brick building on Avondale Ave., just west of downtown, for its entire history. And led by Mr. Walters, Toledo Mirror and Glass has established a culture of loyalty and longevity through the decades. A mother-daughter pair of employees, Irma Weisweber and Wylodene Ragan, worked a combined 120 years at the company, into the 2000s. Mr. Alcock is a second-generation employee; he's in his second year as an apprentice on the shop floor, and his father still hasn't left.
That culture, maintained even after Mr. Walters passed and ownership passed to his trust, made things easy for Mr. Nicholson and Mr. Pellioni when they took over. "Being left to fend for yourself when the founder of the company passes away and you're left on your own, that develops a certain degree of toughness," Mr. Pellioni said. "That has carried on. [The employees] learned how to manage themselves."
Most of the full-time employees at the company have been there for over a decade, and the workforce is staunchly local. 40 percent of the workforce is from the Toledo area, Mr. Nicholson estimated.
And while most of the company's work — 95 percent, Mr. Nicholson said — is now in subcontracting for companies like Rudolph Libbe Inc. and Lathrop Co., it still takes on some of the same kinds of specialty projects it has throughout its history. Mr. Alcock recently shaved several intricately curved panes of glass for a burned-out window frame from the Old West End, sealing them with putty.
The company's new niche as a cog in the regional glass industry is well-defined. The glass is often produced elsewhere. In the case of Libbey Glass Pavilion, the sheets were manufactured in Germany and molded in China.
"We are an installer," Mr. Nicholson said. "We design, we size, we order, we receive, and we install."
A lot has changed in 100 years. But a set of square commemorative mirrors sits on the specialty room's table in the factory. "100" is etched in block letters across the top half, with the company's logo, flanked by "1918" and "2018," below.
As Toledo Mirror and Glass looks to the future, the past, through the silvered glass, stares right back.
Contact Mark Rosenberg at mrosenberg@theblade.com or 419-724-6194.
Guidelines: Please keep your comments smart and civil. Don't attack other readers personally, and keep your language decent. Comments that violate these standards, or our privacy statement or visitor's agreement, are subject to being removed and commenters are subject to being banned. To post comments, you must be a registered user on toledoblade.com. To find out more, please visit the FAQ.