When she began her journalism career, Hannah Storm often heard news stations tell her they wouldn't hire a female sports broadcaster.
"There were simply no women doing what I wanted to do," she said Tuesday at the second annual Marathon Classic Women's Summit at the Highland Meadows Golf Club in Sylvania. "I really didn't have those kinds of role models, so I had to be the first. I had to forge the way."
The longtime sports and news anchor was a keynote speaker at the event, which more than 400 women attended.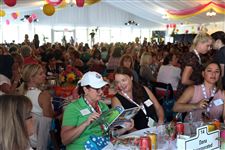 Crystal Jordan, center left, and Alison Carter, center right, consult their program booklet together during the Marathon Classic Women's Summit.
The Blade/Katie Rausch
Enlarge | Buy This Image
Organizers wanted to create a rich experience for women by helping them connect with one another as well as themselves, said Meg Ressner, who chaired the event.
"This week and this day represents so much of what is important to me — empowering women, helping the children in our community, and building a vibrant Toledo," Ms. Ressner said.
Diane Larson, award-winning journalist and co-anchor of WTVG-TV, Channel 13, emceed this year's event.
"I hope you enjoy every minute and leave today with an experience that helps you live with purpose and intent while elevating the connections in your life," she said.
With the networking opportunities provided to Rita Mansour of Mansour Wealth Management last year, she attended this year's summit to again build new relationships.
"It's important that women have a space where they can feel empowered and gain information and also have open dialogue with one another to figure out what works best for them in their lives," Ms. Mansour said.
Sharing a similar vision, Julie Haas, program director of Mom's House, a Toledo day-care program for children of low-income mothers, also attended the event to build more relationships with other strong women.
"We look at things like this as an opportunity to invest back into the young ladies in our program," Mrs. Haas said.
WATCH: Blade reporter Jimmy Miller interviews ESPN anchor Hannah Storm
Last year's Marathon Classic champion I.K. Kim also attended the summit and was a speaker at the event. She shared how meditation allows her to remain calm and focused during stressful situations.
During the Lorena Ochoa tournament, Ms. Kim received a check of $225,000, half of which she donated to the Lorena Ochoa foundation and the other half to Special Olympics.
When asked why she donated the money, Ms. Kim said, "Because I'm around a lot of empowering women."
This year's summit raised $75,000, up from $50,000 last year. The proceeds will go to 17 children's charities in northwest Ohio.
Author and media entrepreneur Mallika Chopra also delivered a keynote speech. She is the founder of Intent.com, a platform focused on personal, social, and global wellness through which she has connected with thousands of people.
Ms. Chopra said she found her true path after re-launching MTV in India. She realized she wasn't serving in the way she was meant to serve.
"In becoming a mom, I actually found my voice," she said. "I started to write and teach meditation in my community."
The summit was sponsored by Owens Corning and Owens-Illinois.
Contact Areeba Shah at ashah@theblade.com, 419-724-6066, or on Twitter @areebashah_.
Guidelines: Please keep your comments smart and civil. Don't attack other readers personally, and keep your language decent. Comments that violate these standards, or our privacy statement or visitor's agreement, are subject to being removed and commenters are subject to being banned. To post comments, you must be a registered user on toledoblade.com. To find out more, please visit the FAQ.