Six Toledo-area businesses are among hundreds of Midwestern industrial sites that have kept New York City from meeting ozone air-pollution requirements, the state of New York alleges in a petition to the U.S. Environmental Protection Agency.
The U.S. Chamber of Commerce is leading the charge to counter the allegations and head off the possibility of the EPA ordering the businesses — which in the case of the Toledo companies are 600 miles from New York City — to install additional ozone-mitigation technology.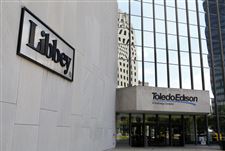 Libbey Inc. is one of six Toledo-area businesses named in Six a state of New York petition to the U.S. Environmental Protection Agency, which alleges that many Midwestern industrial sites share part of the blame for New York City's ozone levels.
The Blade
Enlarge | Buy This Image
The 346 named businesses across nine states are not responsible for New York City's ozone non-attainment nor should they be saddled with the cost of a fix, said Heath Knakmuhs, vice president and policy counsel at the U.S. Chamber of Commerce in Washington, D.C. The chamber is fighting the petition as part of the Air Stewardship Coalition.
"If you live, work or depend upon the local economy in nine 'upwind' states — Illinois, Indiana, Kentucky, Maryland, Michigan, Ohio, Pennsylvania, Virginia or West Virginia — New York is seeking to shrink your slice of the economic pie," Mr. Knakmuhs recently wrote in a blog.
Among the local businesses or sources blamed by New York are Libbey Inc. in Toledo, Toledo Refining Co. in Oregon, and Pilkington North America in Rossford. The others were BP-Husky Refining in Oregon, Graymont Dolime in Genoa, and Bay Shore in Oregon.
Toledo Refining is reviewing New York's filing but wants to assure local residents that the company "is dedicated to operating the refinery safely, reliably and in an environmentally responsible manner," spokeswoman Christine Shultz wrote in a statement.
Those efforts are being made in compliance with all permits, laws, and regulations that apply to Toledo Refining's Ohio operations, she said.
BP America declined to comment.
In its petition, New York said it used computer modeling to show that emissions from the named businesses were contributing to New York City's failure to meet ozone pollution standards mandated in 2015. It asks the EPA to find in favor of its evidence and see to it that the alleged contributors reduce their emissions to help New York City and another area in western New York come into compliance.
"Until EPA addresses this issue, New Yorkers will continue to suffer not only a public health burden, but will be required to suffer the additional economic burden of further controls on New York businesses to compensate for EPA's failures," Kevin Frazier, a spokesman for the New York State Department of Environmental Conservation, said in a prepared statement.
In a response, the chamber-led coalition argues that the computer modeling is faulty. And the named states, including Ohio, are still putting together emission data as required by the 2015 regulations.
Most of the named businesses are utilities or major manufacturing sites. But some aren't.
Among the named polluters are Michigan State University in East Lansing, Mich., and Detroit Metropolitan Wayne County Airport in Romulus, Mich.
Ozone at ground-level is known as bad ozone. It is created by oxides of nitrogen combined with volatile organic compounds in the presence of sunlight. Major sources of bad ozone are electric utilities, motor vehicles, gas vapor, and solvents.
Winds can carry the components of bad ozone long distances as New York is contending in its EPA petition. Bad ozone can cause respiratory discomfort, throat irritation, and congestion while worsening asthma, emphysema, and bronchitis. Long-term exposures can potentially lead to major lung problems.
The chamber's Mr. Knakmuhs said New York's filing under Section 126 of the Clean Air Act seeks to stretch the letter of the provision. Section 126, or the "Good Neighbor" provision, provides for federal relief when a state fails to rein in pollution from a major source or group of sites that contributes to problems across state lines.
New York's approach is broad-based, however, seeking to impose remediation efforts on sites as far away as Illinois using computer modeling and years-old emission data that could cost companies millions of dollars to address, Mr. Knakmuhs said.
The EPA is expected to rule on New York's petition later this year.
New York is seeking that the EPA find that the 346 sites are contributing to New York's ozone non-attainment and impose enforceable limits on their emissions, according to the petition.
Contact David Barkholz at dbarkholz@theblade.com, 419-724-6134, or on Twitter @barkholzatAN.
Guidelines: Please keep your comments smart and civil. Don't attack other readers personally, and keep your language decent. Comments that violate these standards, or our privacy statement or visitor's agreement, are subject to being removed and commenters are subject to being banned. To post comments, you must be a registered user on toledoblade.com. To find out more, please visit the FAQ.