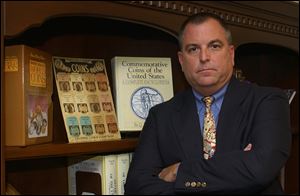 Tom Noe with just a few books in his Vintage Coins and Collectibles office library Wednesday, March 16, 2005.
THE BLADE/LORI KING
A Note From The Publisher:
In April 2005, The Blade broke a story about the State of Ohio's $50 million investment in rare-coin funds controlled by a politically connected friend of then Ohio Gov. Bob Taft.
What began as a Sunday story about problems with an unusual state investment has grown into an investigation by a six-member reporting team into statewide corruption and how coin dealer Tom Noe funneled cash to the Bush-Cheney re-election campaign. He was indicted in October 2005 on three felony counts for his presidential fund-raising.
Ohio's inspector general launched an investigation, which is now headed by a task force including two federal and two state prosecutors. The Noe coin funds have been seized by state officials, who say the coin dealer stole millions from the funds.
Unlike past investigative projects by The Blade, this story unfolded day-by-day. Our reporters doggedly followed the money. The trail they cut exposed a pay-to-play system that was rampant not only at the Ohio Bureau of Workers' Compensation, which invested in the Noe coin funds, but also in the awarding of contracts at the Ohio Department of Transportation.
A four-day series in October 2005 revealed how Mr. Noe and the 29 other Ohio "Pioneers" and "Rangers," who helped gain President Bush a second term, owned or headed companies that received hundreds of millions of dollars in state and federal contracts.
The Blade's investigation gained national attention early and gained strength when our stories reached into the office of Governor Taft. Reporters found that Mr. Taft golfed on Mr. Noe's tab and several of the governor's aides frequented the "Noe Supper Club," where their meals were free and wine flowed. There were also cut-rate vacations in Mr. Noe's Florida Keys home for a top aide and no-interest, no-repayment loans made to Taft aides by the coin dealer after they left the governor's office.
Governor Taft and two of his aides were found guilty and fined for violating the state's ethics laws by failing to report gifts from Mr. Noe and others. Mr. Taft's conviction was the first for a sitting Ohio governor. And two top officials at the workers' compensation bureau who invested in rare coins were fired or forced to resign.
A top-to-bottom review of the bureau's investments spurred by The Blade has produced significant reform in Ohio. The state legislature outlawed state investments in rare coins and collectibles; the workers' compensation bureau banned campaign contributions from investment managers to state politicians, and the bureau decided in November 2005 to fire all of its money managers and place its $15 billion portfolio in safer fixed-income investments.
The Blade also sued the state to gain access to Noe coin-fund records. The Ohio Supreme Court's 5-2 ruling not only provided the newspaper the records it needed to report the story, but also expanded the state's open records law.
We brought these issues to light because they have been covered up for so long. We hope that by exposing this corruption, scandal will be turned to reform and voters will once again have confidence in their government.
-- John Robinson Block
Publisher of The Blade
Ohio agency sinks millions into rare coins:(4/03/05) Since 1998, Ohio has invested millions of dollars in the unregulated world of rare coins, buying nickels, dimes, and pennies. Controlling the money for the state? Prominent local Republican and coin dealer Tom Noe, whose firm made more than $1 million off the deal last year alone. The Ohio Bureau of Workers' Compensation has continued to be the sole investor in Mr. Noe's Capital Coin funds despite strong concerns raised by an auditor with the bureau about possible conflicts of interest and whether the state's millions were adequately protected.
Ohio opens probe into coin assets:(4/08/05) Ohio's anti-corruption watchdog said Thursday that he is starting an investigation into alleged wrongful acts associated with the investment practices of the state Bureau of Workers Compensation. Recent concerns expressed as to the bureau's investment in rare coins merit the review of an independent study to ensure that state officials actions were proper and do not create even the appearance of impropriety, Inspector General Tom Charles said in a statement.
Taft defends state's rare-coin investment:(4/08/05) Ohio Gov. Bob Taft agreed Thursday to an interview at The Blade about the recent controversy surrounding the Ohio Bureau of Workers' Compensation investments in rare coins. On Sunday, The Blade reported that the bureau gave $50 million to be invested in rare coins by two funds managed by Tom Noe, a local coin dealer, prominent Toledo-area Republican, and a frequent campaign contributor to Mr. Taft and other top GOP officeholders in the state. The story raised a number of issues regarding the investments by the Noe fund.
Fund managers ratcheted up political giving: (4/19/05) For years, the state employees who invested money in the Ohio workers' compensation fund walked a narrow, conservative path. But in 1996, as the stock market soared and bond prices fell, the General Assembly pushed through a sweeping reform with an 11th-hour amendment. No longer would bonds be the main investment vehicle - now the state could pursue stocks, private equity, real estate, and, it turns out, rare coins. In time, dozens of fund managers would scramble to get a piece of the action. A Blade review of campaign finance databases shows that more than half of the firms chosen by the Bureau of Workers' Compensation to invest $500 million in a new emerging managers fund, contributed to the Republican party and statewide candidates - a kind of Columbus ATM for the GOP.
Ex-coin fund associated has felony record:(4/22/05) One of the managers hired by Tom Noe to buy and sell rare coins for the state was once convicted of faking a coin transaction to cover up drug money, The Blade has learned. Mark Chrans pleaded guilty to fraud and perjury in U.S. District Court in Springfield, Ill., in 1986. He spent less than a year in a federal penitentiary. He is the same rare-coin dealer who caused Mr. Noe s Ohio-funded Capital Coin to write off $850,000 in bad debt when he failed in the late 1990s to repay loans and salary advances made to him by Mr. Noe with the state's money, as well as losing more than $300,000 in coin deals that went bad.
Noe faces federal probe for Bush contributions: (4/28/05) Federal authorities said yesterday they are investigating local businessman and prominent Republican fund-raiser Tom Noe for possible violations of campaign contribution laws. Gregory A. White, U.S. attorney for the Northern District of Ohio, confirmed that his office, in conjunction with the FBI, is looking into Mr. Noe, who was chairman of the Bush-Cheney campaign in northwest Ohio.
EDITORIAL: The GOP's mess deepens: (5/01/05) As the "Coin-gate" revelations seem to get worse almost by the day, the continued resistance of the Ohio Bureau of Workers Compensation to fully disclose all transactions and information related to the taxpayers' $50 million investment in coins only deepens an already dark pit.
State decides to get rid of rare-coin investments: (5/05/05) State officials yesterday said they are halting a controversial investment in two rare-coin funds controlled by Tom Noe, a prominent Toledo-area Republican fund-raiser and coin dealer. The Ohio Bureau of Workers' Compensation announced that it will dissolve the $50 million investment "over a reasonable period of time sufficient to protect the state's investment."
Noe quits turnpike and regent panels:(5/11/05) A day after the state said it would pull $50 million in investments managed by Toledo area coin dealer Tom Noe, he resigned yesterday from both the Ohio Turnpike Commission and the Ohio Board of Regents. Gov. Bob Taft said he did not request the resignations, but he did accept them. An aide to the governor said Mr. Noe s resignation letter was hand-delivered yesterday morning.
Former Taft aide vacationed at Noe property: (5/12/05) Gov. Bob Taft's former chief of staff twice rented a Florida home owned by Republican fund-raiser and local coin dealer Tom Noe for family vacations, and paid below market price for his spring-break stays in the $1 million home. Brian Hicks told The Blade this week that he paid $300 to $500 for five nights in the 3,600 square-foot waterfront home in 2001 and stayed there again for a few days a year later. Both times, he was Mr. Taft's chief of staff. People familiar with real estate in the area said it costs between $2,000 and $3,500 a week to rent homes similar to the Noes' property. They expressed surprise at the price that Mr. Hicks paid for five nights during spring break, a peak season in the Keys.
$10M to $12M missing from Noe's coin funds:(5/27/05) Federal and state authorities are pursuing criminal and civil charges against Tom Noe for allegedly misappropriating $10 million to $12 million from the state's rare-coin investment. Franklin County Prosecutor Ron O Brien said yesterday that he has reason to believe Mr. Noe, a prominent Toledo-area Republican fund-raiser and rare-coin dealer, has misappropriated more than $10 million in state assets.
Taft: Coin deal a 'bad decision': (5/28/05) Gov. Bob Taft, who initially defended the state's $50 million investment in rare coins and personally supported Tom Noe, said yesterday that the Bureau of Workers Compensation had made a bad decision by investing with the wrong person. "Mr. Noe has clearly deceived and betrayed many people at organizations and has irresponsibly managed the state's moneys," Mr. Taft said at a Statehouse news conference. "If he is guilty of criminal conduct, he should receive the most severe punishment possible under law."
EDITORIAL:The biggest outrage of all: (5/29/05) Tom Noe finally has to face one very unpleasant reality: the protective circle of wagons that has surrounded him since "Coingate" first broke in early April is gone. The wagons have scattered. His friends in high places, starting with Gov. Bob Taft, have at last decided that maybe it's a good idea to distance themselves from the man who has been so generous to them over the years. The reason? Authorities now believe he may have misappropriated between $10 million and $12 million in public money, and, according to the Franklin County Prosecutor, may have converted it to his personal use.
Ex-Taft aide got $39,000 from Noe; 'Loan' used to help buy house in Lakeside, Ohio: (6/02/05) A former high-ranking aide to Gov. Bob Taft accepted $39,000 from Tom Noe so he could buy a house in Lakeside, Ohio. H. Douglas Talbott, who worked for Mr. Taft and former Republican Gov. George Voinovich, said he accepted the money as a loan from Mr. Noe in September, 2002 after leaving the governor's office in May, 2000, to become a lobbyist. Mr. Talbott, 41, said he has not repaid the money to Mr. Noe, but he plans to do so with interest.
Bush to give back $4,000 in Noe cash: (6/03/05) President Bush will return $4,000 in campaign contributions donated by Toledo area coin dealer Tom Noe and his wife, officials said yesterday. A spokesman said the Republican National Committee will also return $2,000 contributed by Mr. Noe, who is facing multiple investigations for allegedly misappropriating at least $10 million in state money and possible federal campaign finance violations. The money will be refunded to charity.
Coins, cigars, wine seized in Colorado: (6/07/05) A half-million dollars of Ohio's coin money might have been poured into 3,500 bottles of wine stored in a cellar at the suburban Denver home of a former employee of Tom Noe, Colorado authorities say. Investigators during the weekend took custody of the expansive wine collection, while seizing hundreds of rare coins, about 265 Cuban cigars, documents, invoices, and computers from the home and office of Michael Storeim, a former manager of a subsidiary of Ohio's $50 million coin venture, said Jacki Tallman, a spokesman for the Jefferson County, Colorado, Sheriff's Office. Investigators believe items seized during the search might have been purchased with Ohio money or at least provide clues for law enforcement, Ms. Tallman said.
Workers' comp bureau concealed $215 million loss:(6/08/05) Democrats were screaming cover-up yesterday after state officials admitted that a high-risk hedge fund that the embattled Ohio Bureau of Workers Compensation had invested in had lost $215 million in just a few months last year. The bureau acknowledged that the fund, managed by a Pittsburgh-based investment firm, lost the money between February and September, 2004. MDL Capital Management relinquished control of the fund in November.
EDITORIAL: Public blindsided again:(6/10/05) After two months of staggering revelations in the "Coingate" scandal, Ohioans now must cope with one more remarkable and disgusting example of arrogant, out-of-control, one-party rule. In a confession stunning in its scope, the Ohio Bureau of Workers' Compensation admitted this week that the taxpayers lost $215 million in just a few months last year in a high-risk hedge fund that went south almost as fast as the state bought in.
Taft didn't report golf outings, allegedly with Noe, to the state: (6/22/05) As a widening scandal at the Ohio Bureau of Workers Compensation threatens his administration, Gov. Bob Taft last night admitted that he had failed to include golf outings on his annual financial disclosure statements filed with the Ohio Ethics Commission. A source, speaking on the condition of anonymity, yesterday said that Tom Noe, a Toledo-area coin dealer at the heart of the state investment scandal, told him at Toledo's Inverness Club in 2002 that he was playing golf there with Governor Taft. Mark Rickel, Mr. Taft's press secretary, refused to confirm or deny that Mr. Taft had failed to list one or more golf outings involving Mr. Noe on his financial disclosure statements.
Emerging scandals put Taft family's reputation in peril: (6/26/05) Embracing his place in a political dynasty that boasted a U.S. president and a chief justice of the Supreme Court, and two senators, Bob Taft vowed in 1999 as he became governor to carry on the tradition that ingrained the Tafts as Ohio's first family. More than six years later, Mr. Taft finds himself enveloped in an investment scandal. He's staring down calls for his resignation amid accusations that he broke state law and lost control of his administration.
Firm fired after losing $71M from BWC: (7/08/05) The Ohio Bureau of Workers Compensation is severing ties with a politically connected investment firm that lost $71 million, the bureau announced yesterday. Bureau officials yesterday blamed $60 million worth of those losses on "management decisions" by Allegiant Asset Management, a wholly owned subsidiary of Cleveland-based National City. In 2001, the bureau transferred $250 million to Allegiant from other equity funds, but within two years the investment had lost $70 million and the agency began to withdraw its stake.
Court orders coin records turned over: (7/14/05) Ruling in a lawsuit filed by The Blade, the Ohio Supreme Court yesterday ordered the Bureau of Workers Compensation to release all transaction records from the $50 million rare-coin investment that Tom Noe controlled. In a 5-2 decision, the high court rejected the state's argument that the records which show the sellers, dates, and purchase prices of coins in the state's inventory are trade secrets exempt from the Ohio Public Records Act. The documents should be released immediately for public inspection, wrote Democratic Justice Alice Robie Resnick of Ottawa Hills for the majority.
Petro: Noe stole millions:(7/22/05) om Noe stole millions of dollars from the state and used a "Ponzi" scheme to fabricate profits within the state's $50 million rare-coin investment, Ohio's attorney general said yesterday. "There was an absolute theft of funds going on," Attorney General Jim Petro said. Mr. Petro said there is evidence that Mr. Noe pocketed nearly $4 million in money invested with the coin fund through the Ohio Bureau of Workers Compensation since 1998.
Former Taft aides guilty on ethics charge: (7/30/05) Two former aides to Gov. Bob Taft former Chief of Staff Brian Hicks and his former executive assistant, Cherie Carroll were convicted and fined by a judge yesterday for taking gifts from coin dealer Tom Noe a political climber who golfed with the governor and sought audiences with President Bush. The two became the first convicted on criminal charges related to the sweeping investigation into the rare-coin scandal that, in addition to focusing attention on Mr. Noe and his wife, Bernadette, has shined a bright stage light on the inner workings of the governor's office and Ohio Republican Party politics.
BWC drops Fifth Third Bank after losses of $9.7 million: (7/30/05) Bad numbers caused the Ohio Bureau of Workers' Compensation yesterday to fire a sixth investment manager, Fifth Third Bank. Buying stock in multibillion dollar companies such as investment bank Goldman Sachs and electronics retailer Best Buy, the Cincinnati-based financial services giant lost $9.7 million of the bureau's total $110 million investment.
Taft declared guilty: (8/19/05) As Gov. Bob Taft yesterday became Ohio's first governor to be convicted on criminal charges, he apologized for embarrassing the state he's sworn to lead, but dismissed the ethical misdeeds as an inadvertent mistake. Under state law, Mr. Taft could have been sent to jail, but a Democratic judge instead ordered the embattled governor to pay a $4,000 fine and issue a written apology to all Ohioans from the shores of Lake Erie to the banks of the Ohio River.
Another top official loses job at BWC: (9/08/05) The chief investment officer of the Ohio Bureau of Workers' Compensation yesterday became the latest top official to be forced out of the agency because of a scandal that has spurred multiple civil and criminal investigations and shaken public confidence in the bureau and in state government. Tina Kielmeyer, the bureau's interim administrator-CEO, fired James McLean, citing "lack of effectiveness" and "poor decision making" in a termination letter issued to the agency's top investment official. He has held the post since 2003.
Political contributors get ODOT contracts: (9/18/05) As the race for Ohio governor heats up, candidates will scour the state and country looking for the cash to fuel their campaigns. And if history is a guide, those candidates have a rich well to tap the dozens of engineering and design firms that work for the Ohio Department of Transportation. Over the last decade, a Blade investigation shows, those firms have contributed more than $1 million to politicians, political parties, and political action committees. In the last five years, those same firms have received more than $400 million in ODOT contracts.
Democrats seek to limit contractors' campaign donations: (9/28/05) Democratic state legislators will propose today knotting the loopholes in the 20-year-old law designed to restrict campaign donations from Ohio's contractors. State Rep. William Healy II (D., Canton) said he worked on the bill for months, although he was still finalizing its language yesterday afternoon. He said much of the bill's content matched the analysis from a recent article and editorial in The Blade. He said his proposal fits into a package of bills that Democrats expect to propose during the next year that will feature other pieces of legislation written to curb ethical violations and suspect practices by state officials.
Noe stole BWC cash for home, Petro says: (9/30/05) Attorney General Jim Petro yesterday presented evidence alleging that Tom Noe used money from Ohio's rare-coin venture to buy his former Catawba Island home, landscape his property in the Florida Keys, and show an imaginary profit to the state. Calling it a "pure misappropriation of public funds," Mr. Petro charged that Mr. Noe engaged in check forgery, presented false profits, and stole millions from the $50 million Capital Coin I and II funds he managed for the Ohio Bureau of Workers Compensation. Mr. Petro has filed a lawsuit on behalf of the state against Mr. Noe, claiming the former Toledo-area coin dealer and Republican fund-raiser defrauded the bureau of millions of dollars.
Tom Noe indicted -- GOP backer accused of laundering cash: (10/28/05) Tom Noe, whose failed rare-coin deal with the state has triggered multiple investigations and rocked Ohio's Republican leadership, was charged yesterday with illegally funneling $45,400 to President Bush's re-election campaign. Gregory A. White, the U.S. attorney for the Northern District of Ohio, announced a three-count indictment against Mr. Noe, saying he used two dozen people as conduits to make illegal campaign contributions at a $2,000-a-seat fund-raiser in Columbus. In doing so, Mr. Noe skirted federal campaign finance funding limits while meeting a pledge to raise $50,000 for the Oct. 30, 2003, fund-raiser. The Bush campaign later named Mr. Noe a Pioneer for raising at least $100,000 overall.
Bush donors gain access to contracts, policymakers:(10/30/05) The Ohio business leaders and lobbyists who steered at least $4.1 million to President Bush's re-election campaign last year collected more than $1.2 billion in taxpayer dollars for their companies and clients, a Blade investigation shows. The fund-raisers who helped deliver the battleground state - and ultimately the 2004 presidential election - also received choice appointments from state and federal officials. The posts included an ambassadorship to Germany and a seat on the Ohio State University board of trustees. Others made millions from unbid contracts varying from supplying ball bearings to the military or office furniture for federal agencies.
Workers' comp bureau fires remaining money managers:(11/18/05) The Ohio Bureau of Workers Compensation yesterday approved one of its largest reforms in response to the financial scandal that has plagued the agency, terminating its 69 remaining money managers and moving to invest nearly all of its $15.7 billion portfolio in conservative fixed-income funds. During the next four months, the bureau will divest its $7.2 billion stake in equities and shift that money into investments designed to reduce risk. The decision by the bureau's Oversight Commission comes more than seven months after The Blade first reported that the agency invested $50 million in a rare-coin venture with former Toledo-area Republican fund-raiser Tom Noe.