The downtowns of Ohio's major cities tell a story of plight and promise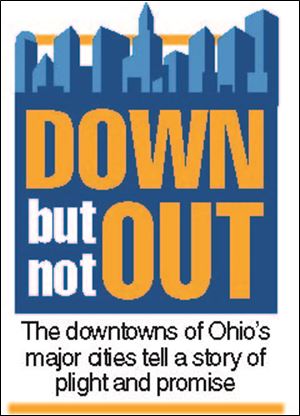 Day 1
Loss of firms, jobs vexes central Toledo business districts: (6/22/08) When glass-maker Owens-Illinois Inc. decamped for the suburbs two years ago, it set off a negative chain reaction in downtown Toledo s office and retail sectors. Bellacino s Pizza & Grinders locked its doors for good. Ditto for nearby Quizno s Subs. Owners of the upscale Diva restaurant called it quits. And Ken s Flower Shop shut its downtown operation. But the situation in Toledo is not unique. A quarter-century after traditional retailing died in the core of most cities, downtowns are facing another exodus.
Downtown Toledo teemed with activity into the '70s: (6/22/08) Just a generation or so ago, in the 1970s, Toledo's downtown was beyond its peak. But there were still plenty of signs of life: Crowds of workers and shoppers, large corporate headquarters, eight locally owned financial institutions, busy hotels, a vibrant night life, and restaurants galore. There was something for everybody. There was a critical mass of the stuff it takes to make a downtown real - and exciting.
Day 2

Difficulties in Dayton feel familiar to Toledo: (6/23/08) When Mitch Bennett and a partner revealed plans to open a floral shop in downtown Dayton, friends "asked us if we lost our minds," he recalled. And it looked as if the naysayers might be right when, shortly after Mitchell's Floral Gallery opened on the ground floor of an office tower at 110 North Main St. last year, another downtown employer announced plans to pull up stakes.
More residents, upgrades bolster Cincinnati's hopes: (6/23/08) On nice days, crowds gather in downtown's restored Fountain Square to people-watch, grab lunch, catch a Reds game on a giant outdoor screen, and become betrothed. Seven years after a white police officer's shooting of a young black man sparked three days of rioting that put the brakes on downtown restoration efforts, momentum is building again.
Day 3

City of Cleveland battles poverty, exodus: (6/24/08) Since the 1970s, downtown boosters have expended lots of energy determining what to do with failing retail sites. Now, they say, their efforts are beginning to show results. Along famed Euclid Avenue in downtown Cleveland, its downtown portion clogged with the corpses of dead department stores and specialty shops, the transit authority is spending $200 million on beautification and improvements to persuade people to move into lofts and apartments being carved from old stores and offices.
Restoration in Akron draws mixed reviews: (6/24/08) When problems arise in Akron's city center, members of municipal government's Downtown Operations Group rarely butt out. The Summit County city was drowning in a sea of cigarette butts tossed onto downtown sidewalks by bar and restaurant patrons forced onto streets by Ohio's smoking ban. Efforts to deal with the issue included placing six dozen cigarette receptacles and free distribution of hundreds of pocket ashtrays. "We aggressively try to clean spaces," Deputy Mayor Dave Lieberth explained. "Otherwise it looks like nobody gives a damn about this downtown."
Day 4

Capital's core looking for life after office hours: (6/25/08) With a nearly recession-proof economy that includes 15,400 state employees, Ohio's capital city and its downtown are better positioned than most places across the state to ride out the nation's economic slump. Yet beyond the civic pride and the happening fringe neighborhoods, downtown Columbus has a side that isn't mentioned in tourist brochures.
Once a lemon, Youngstown's working on better lemonade: (6/25/08) Karen Arranz spends her days turning lemons into lemonade.The lemonade cart she tends on West Federal Street in downtown Youngstown is surrounded by vacant storefronts, obsolete office towers, and roadway construction. But the Youngstown woman sees only progress. "Youngstown has always been a comeback place, and it will come back again," said Ms. Arranz as she pointed out nightclubs that have replaced abandoned retail sites, vacant office towers that developers promise to fill with apartments, and road work that will improve traffic flow and increase parking.