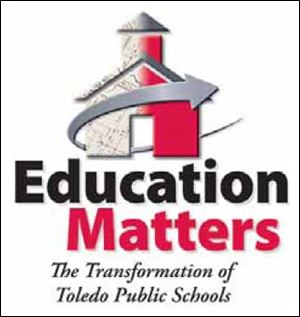 The Blade's public schools initiative Education Matters is an effort designed to improve Toledo Public Schools by investigating success stories around the country.
With Education Matters, The Blade is reporting in an occasional series about the travails and successes of public education in the Toledo area and periodically inviting speakers from around the country who have made serious improvements in their local school systems. The Blade hopes the example of those successes will inform TPS and the greater community.
"As a leading local business and this area's primary news source, our goal is to elevate education in our area, nothing is more important for our future," said Joseph H. Zerbey IV, president-general manager of The Blade.
Toledo
Ohio
Measure of success: Fixing community ills holds key to curing city schools: (05/08/11) Children born into broken homes, pushed into foster care, raised amid crime, and educated at poor-performing schools are supposed to fail. Many of them do. But not all of them. It's the same with schools, and many are called failures in Toledo, but maybe they're not. Maybe we're asking the wrong questions. Maybe we're measuring success in the wrong way.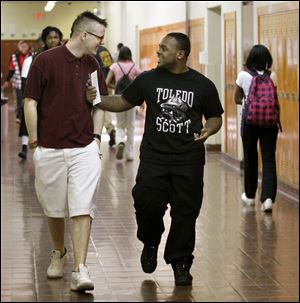 Students Fred Hitt and Denzel Moore walk to class at Scott High School in the old DeVilbiss High School building during building renovations at Scott.
THE BLADE/DAVE ZAPOTOSKY
Teacher turnover poses threat to learning process:
(05/08/11) TPS staff are exiting poor-performing schools at twice the rate of excellent-rated ones. Some education researchers link constant changes in teaching staff to reduced morale among faculty, stymied professional development, and reduced trust and familiarity among students, teachers, and parents. At many schools with abnormal rates of teacher turnover, staff members are relatively young, inexperienced, and ineffective. Stringent seniority rules in teacher union contracts are commonly blamed for the turnover.
Value-added assessments focus on student academic growth: (05/08/11) Student academic growth, and what impact teachers have on it, is rapidly becoming a major topic in education reform. A key requirement of the Obama Administration's Race to the Top initiative is for states receiving federal funds to implement performance-based measures as a component of teacher and administrative assessments. Value-added assessments are coming to Toledo, in one form or another.
TPS officials pursue several strategies in effort to elevate student performance: (05/09/11) In the district's five elementary schools that were rated in academic emergency last year — Glenwood, Spring, Rosa Parks, Pickett, and Martin Luther King — targeted reforms that carry high expectations are under way, including an intensive reading program.
Test results help detect, address shortcomings: (05/09/11) Education has become a data-driven endeavor in the past decade. The No Child Left Behind Act has been much maligned for forcing schools to focus so heavily on test results at the expense of more well-rounded learning. But it has helped usher in an academic approach that catches student struggles early on and forces teachers to assess whether their techniques are working.
TPS students discover ways to succeed despite obstacles: (05/10/11) Profiles in mentoring, adult education, Birmingham Elementary's rising performance, stability and pride on the East Side, and test scores.
Robinson overhaul aims to light way for TPS: (07/31/11) The former Robinson Middle School is being overhauled. Its entire staff was removed, and it will open in the fall as a K-8 school. Hiring will be done by the school, not the district, in a departure from traditional Toledo Public Schools practice. A performance-pay model will be tried out at the school. An intensive reading program will be added. A summer camp will debut next year. And Robinson will be one of two schools to develop a "schools-as-hub" model that partners TPS buildings with community-based organizations.
Toledo Public system gets a makeover:(08/28/11) It can be hard to tell what isn't changing this year at Toledo Public Schools. Students return to classes across the city Monday, and much will be different. The 2011-2012 academic year is in many ways a crossroads for the Toledo district, where major elements of its transformational plan are implemented. There are changes galore at Toledo schools.
New buildings beckon at five Toledo schools:(08/29/11) New is the word this year at Toledo Public Schools as buildings around the district open Monday for the first day of the school year. Brand-new buildings await students at five TPS schools — Beverly, Birmingham, Old Orchard, Riverside, and Walbridge. Beyond just new materials and modern designs, the schools include advancements that should help in the classrooms, TPS Business Manager James Gant said.
Robinson Elementary sets course to lead change at TPS: (08/30/11) It's Friday, and no students are near Robinson Elementary, but Anthony Bronaugh holds the school library's audience captive. Two dozen teachers lock onto their new principal as he paces the room. These teachers are the cream of the crop in Toledo Public Schools, leaders among their peers. They are accustomed to being the helpers, not being the helped. Their roles will be redefined. This year, at Robinson, they will have higher expectations. Last year, Robinson hit bottom.
TPS elementary feels pains of adjustment under grant program: (10/09/11) In the perceived image, the stereotype, students should refuse to work and be disruptive or disappear. The teacher should be incompetent, unprepared, unable to connect with a class entirely populated by students of a race different from hers. The technology should be outdated at best and more likely absent. But the perceived image is not the real image. Not at Robinson. Children learn here. And yet, odds are this year that most of Robinson's seventh graders won't pass state standardized tests. Will that mean the school failed?
Educators at Robinson school face steep, uphill climb: (11/20/11) They are a lonely dozen. A team of teachers had gathered in the Robinson Elementary School library to diagnose the state of their school. Screening for reading ability was complete, and the results were in. When they heard the news, the room went silent. Of the 180 students in grades 3 through 8, only a dozen showed they could read at their grade levels.
Volunteers of Village 50 program set example for young students: (11/21/11) Every day, Village 50 members come to Toledo's Robinson Elementary School. When it's warm, the men build a perimeter around Robinson, during which they watch for trouble: fights percolating, strangers mingling, or stragglers avoiding school. The Village 50 men aren't at Robinson to discipline students. They're there to set an example.
Adversity helped prepare new Robinson Elementary principal: (1/09/12) A day with Anthony Bronaugh at Robinson Elementary belies that family past. The principal of the central Toledo school can be found at lunch with his arm around a student, the table of children cracking up at a joke by Mr. Bronaugh. Later in the day, in a suit and tie, he'll be at a podium in front of parents, talking about math strategies they can bring home. Mr. Bronaugh doesn't give speeches to his students about his father's murder, or the near fatal shooting of his cousin. He doesn't tell students about being raised in the Northlake Hills low-income housing complex in Dayton. Little of Mr. Bronaugh's life seems defined by his past or the hurdles he overcame. He barely knew his father. Instead, Mr. Bronaugh talks about pride in community and self-respect. And though his focus is on the positive, Mr. Bronaugh's past helps him understand his students in ways most principals never will.
Chattanooga
Tennessee
Chattanooga district may offer TPS lessons: (06/12/11) The Hamilton County school system made major changes to nine central Chattanooga city schools, dismissing every teacher and requiring them to reapply. In what became known as the Benwood Initiative, money from local private institutions began flowing into the schools. Students made major strides on state standardized tests, closing the gap with their peers in the county.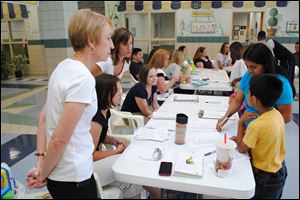 Emily Baker, principal of East Side Elementary School in Chattanooga, Tenn., watches as parents and students arrive to receive report cards on the last day of school.

FOR THE BLADE

District helps principals hone leadership skills: (06/12/11) When officials reconstituted nine struggling central-city elementary schools, they didn't just stop at the teachers. Of the nine principals at those schools, six were replaced. Officials recruited talented people who they thought could bring change, and they established an urban academy where young principals headed for central-city schools got an extra year of training.
Tennessee district met low ranking with shift in teacher culture: (06/13/11) Quality of education has become such a large part of the Benwood Initiative that staff openly talk about education quality. What's developed in Chattanooga, through a continual focus on the quality of education done in a positive way, is a culture where people in the school system feel free to talk about each other's job performance.
Foundation's aid key to turnaround: (06/13/11) The Public Education Foundation provides much of the support that's driven the changes in Chattanooga's central-city schools. The Benwood Foundation and the Public Education Foundation put up a combined $7.5 million in 2000 and 2001, kick-starting the initiative. But the institutes didn't just give the schools money and then step away.
Syracuse
New York
Syracuse rallies behind ambitious schools initiative: (07/24/11) Most students in Syracuse are overwhelmingly poor. Enrollment in public schools for years was in continual decline. Not surprisingly, the system's performance is subpar. The Say Yes movement is radically ambitious, reorganizing programs, extending the school year and day, wrapping social and health programs into school buildings, and raising expectations for student achievement.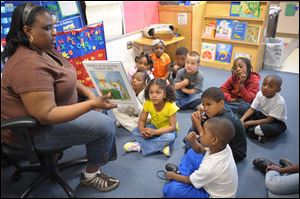 The Say Yes education initiative has ambitious goals for Syracuse schools, including McKinley-Brighton Elementary.

FOR THE BLADE

Does Toledo outperform Syracuse? It depends: (07/24/11) The comparison between the two cities is a case study in the lack of uniformity in education statistics in the United States. Each state uses its own process to determine a graduation rate.
Syracuse effort places itself it areas it serves: (07/25/11) Although Say Yes takes its name from the private foundation that started the initiative, it's more than just a partnership between the school district and the private foundation. In fact, as part of a nonnegotiable pact, Say Yes required the Syracuse district to agree to stipulations that the district would work with community groups, be transparent with funding decisions and academic results, and to find an anchor university to house the program.
Say Yes has voice in operations: (07/25/11) Each school has a Say Yes site coordinator, a go-between with the school and the foundation. Research firms hired by Say Yes analyze school data and district finances, and Say Yes insisted their findings be public.
Cincinnati
Cincinnati offers Toledo schools a road map: (5/13/12) Deontez Powell hurried with the bag, stuffing it onto the bus before another one flew toward him.The Roll Hill Elementary seventh-grader had to be quick because the bags -- stuffed with free food for students to take home over the weekend -- needed to be dropped off before the frenzy started. The food comes from Blessings in a Backpack, a national nonprofit organization that sends food home with students on the weekends. Toledo too sometimes sends food home in backpacks. Roll Hill does it every week. The parallels between what happens at Roll Hill when school lets out and what TPS plans at its still-in-formation United Way partnership "schools as community hubs" are striking. Although both school districts may have developed community-school programing, more striking than the similarities is how much further ahead Cincinnati is than Toledo.
Cincinnati success studied by Toledo: (5/14/12) As Toledo Public Schools finds itself in the midst of a political battle over who should run the federally funded Head Start program, it also finds itself in uncharted waters. For years, Head Start, a program for 3 to 5-year-olds from low-income families, has been run locally by the Economic Opportunity Planning Association of Greater Toledo. The agency must now compete if it wants to continue receiving the nearly $13 million it gets from the federal government to run the program. TPS plans to apply for the grant, and other nonprofit and even for-profit groups also might be interested. Meanwhile another Ohio urban district, Cincinnati Public Schools, has been in the game for years and has found it to pay major dividends.
BILL COSBY
Cosby brings message of volunteerism: (03/16/11) With financial crises in school districts, it'ss time for the community -- churches, nonprofit groups, families -- to step up, he said.
Hundreds gather for Urban League speech: (03/19/11) Themes center on parents and the community taking responsibility for children — and their schools, families, and neighborhoods.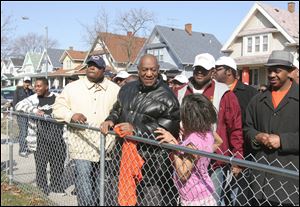 Bill Cosby walks a Toledo neighborhood before speaking at a community rally at Smith Park.

THE BLADE

2,000 join walk through Toledo neighborhood: (03/20/11) Cosby called for "safe passage" for the children and elderly of the black community as he led a walk through a central city neighborhood, culminating in a lively rally in Smith Park with some strong words for black fathers.
Women asked to absorb, honor black heritage: (04/21/11) Cosby impressed by a white teacher's strong commitment to the predominantly black enrollment at Scott High School.