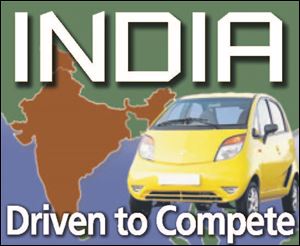 Blade reporter Steve Eder traveled in September, 2008 to India to report on the country's growing auto industry on a World Affairs Journalism Fellowship. The fellowship was administered by the International Center for Journalists and sponsored by the Ethics and Excellence in Journalism Foundation.
About this project: An introduction to the 'Driven To Compete' series from The Blade's special assignment's editor Dave Murray.
Day 1
India's automakers rev up for run at U.S. car market: (11/30/08) Yet another challenge is facing the U.S. auto industry. And this time, it isn't coming from Japan, South Korea, or Germany — or the meltdown of the economy. In the next few years, Indian automakers and parts suppliers, long outcasts because of lackluster innovation and stagnant technology, have ambitious plans to sell cars to American consumers and peddle parts to carmakers in this country. India's anticipated foray into the downtrodden U.S. automotive market poses an immediate threat to Detroit's Big Three and their domestic suppliers, already teetering on the brink of bankruptcy because of lagging sales stemming from a tightening credit market and competition from Asian automakers.
Indian auto mainstay braces for onslaught of foreign competition: (11/30/08) More than a decade after Ford, General Motors, and Hyundai started selling cars in India, Indian motorists are still getting familiar with those brands. The mainstay car company of choice for many Indian drivers has been and continues to be Maruti Suzuki, the nation's largest car-builder. "They blindly trust this brand because they have seen it around for 25 years," said Kanwaldeep Singh, Maruti's general manager of corporate service. "That, of course, can change."
Company strives to fine-tune fully electric vehicle: (11/30/08) If the challenges from India's long-established automakers and parts suppliers weren't enough to turn heads in the United States, some of the nation's most progressive and brightest minds are hard at work refining a fully electric car, the REVA. Since its launch in 2001, REVA Electric Car Co. -- a joint India-U.S. venture based in Bangalore in partnership with AEV LLC of California -- has placed about 2,500 fully electric cars on Indian and European roads. In five years, Chetan Maini, the chief technology officer and brains behind the REVA -- a two-door hatchback selling for $8,000 to $10,000 and rechargeable for 80 cents - believes he can sell 50,000 electric cars per year.
Day 2
Global automakers gain foothold on subcontinent: (12/01/08) A fleet of foreign automakers is investing billions of dollars to build plants in India, hoping to cash in on the nation's rapidly growing class of drivers.And Ford and General Motors, both in the midst of massive expansions in India, are chief among them. As car sales sag in North America and other parts of the globe, the world's largest car manufacturers are increasingly looking at India as a good bet because of the nation's growing middle class -- estimated at 50 million -- and infrastructure gains. While India isn't immune from the economic downturn that plagues much of the world, it's still considered a growth market with a bright future.
Increasing number of vehicles made in India shipped elsewhere: (12/01/08) Most automakers in India say their initial focus is on supplying cars for the nation's rapidly growing middle class and building their brand among consumers. For the most part, they haven't shown the same enthusiasm about using India as a portal for exporting cars across the world. Still, Indian automotive exports have quadrupled since 2002, with more than 1.2 million India-made vehicles being shipped out of the country, according to the Society of Indian Automobile Manufacturers. Of those, about 218,000 were passenger cars.
Suppliers from around the world look to India: (12/01/08) In early 2007, Kuka Automation Equipment set up a small plant in an automotive park in Pune, India, a strategic location that gives it quick access to the factories of major auto companies such as Tata Motors, Mahindra Motors, and Volkswagen. Kuka, a German company that builds robots used in automobile manufacturing, is among hundreds of parts suppliers from across the world that are targeting the Indian market. Rajendra Phatak, the president and CEO of Kuka India, says that as automobile manufacturing matures in India, automakers will move away from inexpensive, labor-intensive production and look to robots, which are safer and more efficient and bring down long-term costs.
Day 3
Growth in autos sparks challenges: (12/02/08) For generations, Prasanta Dutta and his family, like thousands of other villagers, have depended on the vast flatlands of rural West Bengal for food and income. Covered with the golden-brown dust that blankets everything, the villages near Singur are packed with peasants and farmers who grow enough vegetables to feed local villages and large swaths of India. But more than two years ago, those villagers braced for a change in how they've lived for hundreds of years. Tata Motors, the automotive wing of one of India's iconic business houses, The Tata Group, announced plans to build the world's first $2,500 passenger car - later named the Tata Nano - in Singur.