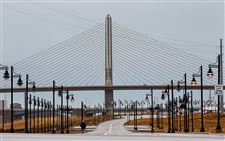 The Veterans' Glass City Skyway bridge.
THE BLADE
Enlarge | Buy This Image
Maintenance work will close two of three southbound lanes on I-280 across the Veterans' Glass City Skyway this weekend, the Ohio Department of Transportation announced.
The double-lane closing is to start at 9 p.m. today and end by 6 a.m. Monday. All ramps will remain open.
Guidelines: Please keep your comments smart and civil. Don't attack other readers personally, and keep your language decent. Comments that violate these standards, or our privacy statement or visitor's agreement, are subject to being removed and commenters are subject to being banned. To post comments, you must be a registered user on toledoblade.com. To find out more, please visit the FAQ.