Each dollar or coin dropped in the glass pitcher on the counter at Black Kite Coffee means Lilian Briggs can continue helping local youth find stable, safe housing.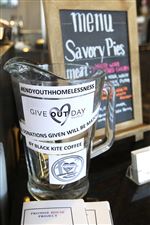 Black Kite Coffee on Collingwood Boulevard in the Old West End has a donation jar for the Promise House Project. It focuses on helping homeless LGBTQ youth.
THE BLADE/KATIE RAUSCH
Enlarge | Buy This Image
If the donor lingers to read about Promise House Project, or goes a step further and takes a pamphlet to share with friends, Ms. Briggs believes the youth she serves will benefit even more.
Ms. Briggs co-founded Promise House Project two years ago with Courtney Billian and Connie Hoffman to connect area youth who are homeless or at risk of homelessness with resources.
Nationally about 40 percent of homeless youth identify as lesbian, gay, bisexual, transgender, questioning, or queer, and although they aren't required to provide any identifying information when they receive help, Ms. Briggs knows many of the people served by her organization are LGBTQ.
"We serve all youth, it just happens that the majority of the young people we have the privilege to serve happen to be LGBTQ," she said.
The donation jar at Black Kite Coffee was part of Give Out Day, a national day of giving to LGBTQ causes held this year on Thursday. Black Kite Coffee matched all donations made to Promise House Project. Pam's Corner, Ltd. donated sales from soup and quiche to the cause.
Every contribution helps the nonprofit connect those ages 14 to 24 with the resources they need, Ms. Briggs said. Her ultimate goal is to end youth homelessness.
"We have to come together as a community and start acting like one," she said. "Young people didn't ask to be here. If the system or their families are not giving them support or are failing them, it is our responsibility as a community to say that's not acceptable to be homeless and hungry."
Promise House Project volunteers run a safe ride program to either transport homeless youth to the appropriate shelter or host family, or to take hygiene products and food to those who need it. They're also working on opening a Community Connections Pantry in the Collingwood Arts Center, featuring food, hygiene products, clothing, school supplies, and referrals to social service agencies.
Their next endeavor will be to open a Toledo drop-in center where young people who are struggling can have a physical location to go to get assistance, acceptance, and support.
"We meet people where they're at. Not everyone is at the same place of need," said Ms. Billian, co-founder and board president.
Personal experiences motivated both Ms. Billian and Ms. Biggs to start Promise House Project. Ms. Billian has opened her home to countless young people in need, many of whom lost stable housing because of their sexual orientation or gender identity. Ms. Biggs has done the same, but not until she found stable housing herself.
"I was the first transgender student government president at Owens Community College, and when I won the presidency I was living in my car," she said. "Through the grace of people at Owens I got sustainably housed, and then people started coming and saying, 'You're transgender. My parents kicked me out because I'm gay.'"
Ms. Biggs welcomed many of her peers to stay in her spare bedroom or on her couch, and from there her work grew into Promise House Project.
It's a mission Kristin Kiser, who owns Black Kite Coffee, said she feels passionate to help bolster, whether that's by fund-raising or simply spreading the word that Toledo has resources for those in need.
"Anything that can help bring people's attention to the cause, even if it's a small thing like having a jar out, somebody might see it that has never seen the name before, or they might be introduced to an issue they hadn't known before," Ms. Kiser said.
Promise House Project will celebrate its two-year anniversary April 30 with a community conversation at Black Kite Coffee from 5:30-7:30 p.m. Toledo Public Schools' homeless pupil coordinator Heather Baker and Toledo Lucas County Homelessness Board's executive director Mike Badik both will be guest speakers at the event.
Contact Sarah Elms at: selms@theblade.com or 419-724-6103 or on Twitter @BySarahElms.
Guidelines: Please keep your comments smart and civil. Don't attack other readers personally, and keep your language decent. Comments that violate these standards, or our privacy statement or visitor's agreement, are subject to being removed and commenters are subject to being banned. To post comments, you must be a registered user on toledoblade.com. To find out more, please visit the FAQ.