DETROIT — Climate change, invasive species, and the impact of industrial chemicals are topics at the largest annual gathering of Great Lakes scientists.
The 2014 Toledo water crisis and western Lake Erie's chronic algae problem continue to garner a lot of attention.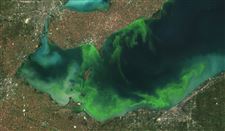 This satellite image shows the algae bloom on Lake Erie in 2011, which according to NOAA was the worst in decades. While much of the focus when it comes to algae is on the lake's western basin near Toledo, a researcher says blooms may impact the rest of the lake more often going forward.
NOAA Enlarge
"It seems like every other talk is about the western basin," Justin Chaffin, Ohio Sea Grant and Ohio State University Stone Laboratory research director said as he began his presentation during one of Thursday's final sessions at Cobo Hall.
The 60th annual International Association for Great Lakes Research conference ends at noon today. It has a record 1,025 attendees.
Mr. Chaffin is one of the region's preeminent algae researchers. This year, he ventured off into a different direction, talking about how the problem has moved beyond the Monroe-Toledo-Sandusky western basin to include the lake's central basin near Cleveland more frequently since 2011.
His research shows the central basin is likely to keep seeing algae — but a different animal, called dolichospermum, which he said used to be known as anabaena.
It's different than microcystis, the most common type of harmful algal bloom in the western basin except for the Sandusky Bay, where the planktothrix is dominant. Both produce the algal toxin microcystin, which — in large doses — is capable of killing humans and is the toxin behind the 2014 Toledo water crisis.
Even if the Cleveland area starts getting more of that algae, it's not time to press the panic button. The presence of microcystin near Cleveland a couple of years ago was probably from planktothrix mixed into that bloom, Mr. Chaffin said.
Conference presentations Thursday included how more buoys have been deployed in western Lake Erie in response to the Toledo water crisis.
Doug Kane, a Defiance College algae researcher and former research association president, talked about a buoy system he has been helping multiple universities and agencies operate out of Stone Laboratory.
It can't identify toxins in the water in real time. But the data it generates on prevailing lake conditions do almost the same thing, he said.
Heather Raymond, harmful algal bloom coordinator for the Ohio Environmental Protection Agency, said correlations from such data have proven accurate in predicting when toxins are in the water.
Contact Tom Henry at: thenry@theblade.com, 419-724-6079, or via Twitter @ecowriterohio.
Guidelines: Please keep your comments smart and civil. Don't attack other readers personally, and keep your language decent. Comments that violate these standards, or our privacy statement or visitor's agreement, are subject to being removed and commenters are subject to being banned. To post comments, you must be a registered user on toledoblade.com. To find out more, please visit the FAQ.