BROOKLYN, Mich. — It was one of those right place, right time situations.
Ryan Patton was a graduate assistant at Ohio State in 2011, working on the football team's strength and conditioning staff.
He envisioned a long career in the sport, perhaps as a Buckeye, with championship rings covering his fingers.
He has the jewelry, but it came in an unlikely journey.
In 2011, Patton traveled to Charlotte, the epicenter of NASCAR, to meet with Hendrick Motorsports' strength coaches and observe training for the six-man pit crews.
The objective was to survey the relationship between NASCAR and the workouts of football players.
Patton immediately noticed a correlation.
Uncertainty engulfed the Ohio State football program because of Jim Tressel's ouster, so when Patton was approached about trying out for a Hendrick pit crew, he didn't hesitate, despite having never changed a tire in his life.
After an extended combine and two-day minicamp, 50 hopefuls were whittled down to 12. Patton not only was hired, he became a crew member of the Lowe's Racing Team's No. 48 car driven by Jimmie Johnson.
He has now been part of is 21 race wins and two championships.
"It's certainly special," the 31-year-old Patton said. "Jimmie's going to go down as arguably the best driver in the history of our sport. To be on his team and be a small part of it is an honor."
Patton, a 2004 graduate of Delphos St. John's, was at Ohio State from 2007-11, where he earned a master's degree.
He was introduced to racing by his father and grandfather, attending races at Indianapolis, Michigan, Mid-Ohio, and Daytona.
The responsibilities don't begin and end with lugging around 75-pound hunks of rubber.
As the rear-tire carrier, Patton also is tasked with making adjustments to the car requested by Johnson or crew chief Chad Knaus.
"You can gain two and three positions under caution, or lose them," four-time champion Jeff Gordon said. "Those positions are harder and harder to gain back these days."
It was Gordon's three championships in the 1990s with the "Rainbow Warriors" which revolutionized the sport. Athleticism was thrust into NASCAR, and it's never looked back. Gone were the days of beer bellies and chain smokers.
No organization embraced the use of former athletes quite like Hendrick Motorsports, which has been referred to as the New York Yankees of NASCAR. Andy Papathanassiou, a former Stanford football player who is Hendrick's director of human performance, explained the surge of athletes in simple terms: you can teach an athlete about a race car, but you can't teach a mechanic to be athletic.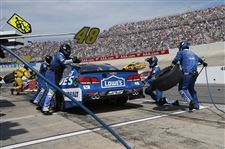 Matthew T. Thacker Enlarge
Bigger, faster, and stronger have met quick and efficient. Estimates are 80 percent of pit crew members are former football players (basketball, baseball, hockey, and track also are represented). In a sport where tenths of a second can decide a championship, every avenue is explored.
"Back in the day when pit stops were 15 or 16 seconds, a pit stop was a reward for the mechanics who worked on the car all week long," Patton said.
"Now, the way the sport has changed so much with the cars being so close together on the track, the biggest advantage or disadvantage is the human element on pit road. Now you see 10-second pit stops, and 11-second stops will get you beat off of pit road. Teams are looking for guys who can perform under pressure, that are quicker, agile, strong, flexible. The days of a mechanic doing pit stops are over."
A typical race week for Patton includes working out, rehabbing, yoga, film review, meetings, and pit practices complete with crowd noise piped in. All of that runs Monday through Thursday, with a structured environment that's not unfamiliar to former football players. Instead of a quarterback studying opposing defenses, Patton deciphers pit stops and where the team can improve.
"We don't really have a captain for the over-the-wall team, but Ryan has turned into that face and that voice because he manages people so well," Johnson told The Blade. "He's a great motivator, focused, and dedicated — all the things you want in a captain. He has a great compass inside for what's right and what's wrong, and treats people with respect. I'm proud to have him on our team."
The captain of his high school football and basketball teams, Patton said leadership is a quality that comes natural to him. He brought pieces of Tressel, Mike Doss, Kurt Coleman, and James Laurinaitis — leaders he admired at Ohio State — with him to Hendrick Motorsports. Tressel even Skyped with Johnson to discuss leadership and how to form a successful enterprise.
"Those guys really impacted me, seeing how they direct a team, the extra work they put in, the positive influence they had," Patton said. "I take pride, and it's a heck of an honor to be considered the captain of our team."
The first pit stops of Patton's career were a blur, but the first mistake still is vivid.
At the 2013 all-star race, Knaus called for an adjustment on the car. Patton made the correct adjustment until he second-guessed himself and reversed course, essentially doing nothing to the car.
Johnson, unaware of the gaffe, praised the car over the radio saying the handling had improved immensely and he was happy with the pit stop. He went on to win the race and the $1 million paycheck that came with it.
In Victory Lane, the famously prickly Knaus informed Patton he was on his [crap] list. It's a destination he's avoided ever since.
"I moved my life for this," Patton said. "Being part of history with Jimmie is something I probably don't realize enough. Down the road, when I'm done carrying tires, I'll probably enjoy it even more."
Contact Kyle Rowland at krowland@theblade.com, 419-724-6110 or on Twitter @KyleRowland.
Guidelines: Please keep your comments smart and civil. Don't attack other readers personally, and keep your language decent. Comments that violate these standards, or our privacy statement or visitor's agreement, are subject to being removed and commenters are subject to being banned. To post comments, you must be a registered user on toledoblade.com. To find out more, please visit the FAQ.