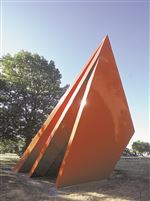 Major Ritual, a sculpture commissioned in 1979, will be moved from its space next to the federal courthouse to a spot at a waterfront park.
Relocation of a sculpture from its current location next to Toledo's federal courthouse to a new spot in a waterfront park will require lane closings Thursday on two downtown streets, the city transportation division announced.
Spielbusch Avenue's northbound right lane will be closed between Jackson Street and Constitution Avenue during the move, as will be Summit Street's northbound right lane between Washington and Monroe streets.
Major Ritual in 1979 became the first major work commissioned by the Arts Commission under Toledo's One Percent for the Arts Program.
It now is to be moved out of the way of an expansion project at the federal courthouse to a new home in Boechenstein Park, which is between Summit Street and the Owens Corning campus along Swan Creek.
Guidelines: Please keep your comments smart and civil. Don't attack other readers personally, and keep your language decent. Comments that violate these standards, or our privacy statement or visitor's agreement, are subject to being removed and commenters are subject to being banned. To post comments, you must be a registered user on toledoblade.com. To find out more, please visit the FAQ.