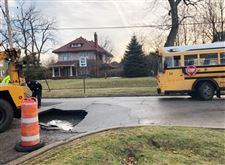 A Grove Patterson Academy Elementary School bus hit a large sinkhole during its morning route Thursday.
13ABC Enlarge
Nobody was injured Thursday morning when a Toledo Public Schools bus fell into a sinkhole.
TPS communications director Patty Mazur said the bus was transporting 15 students to Grove Patterson Elementary School. They were later picked up and driven to school by another bus driver.
City communications director Ignazio Messina said a water main break crumbled some of the asphalt near the intersection of Parkwood Avenue and Baldwin Place, causing the sinkhole. The city's water department responded shortly after the incident and repaired the street, which is now reopened to the public.
Crews will return to the area to make final fixes to the asphalt and work on a nearby manhole. Ms. Mazur said there's no reported damage to the bus, though mechanics are still looking at the vehicle.
Guidelines: Please keep your comments smart and civil. Don't attack other readers personally, and keep your language decent. Comments that violate these standards, or our privacy statement or visitor's agreement, are subject to being removed and commenters are subject to being banned. To post comments, you must be a registered user on toledoblade.com. To find out more, please visit the FAQ.