Alfred Cohoe, left, Monty Siekerman, and Terry Keiser pose for a photograph with a recording of the speech Dr. Martin Luther King Jr. gave at Ohio Northern University.
The Blade/Andy Morrison
Enlarge | Buy This Image
ADA, Ohio — It's etched in Sadicka White's memory, the day the Rev. Martin Luther King, Jr. spoke to thousands gathered on Ohio Northern University's campus 50 years ago.
She sat near the front, dressed up in a tattersall blouse and white blazer. She clutched the hands of the students sitting next to her, a show of solidarity among the few black students on an overwhelmingly white campus. In 1968 there were only 27 non-Cauasians at ONU out of a student population of about 2,000.
"My heart pounded," said Ms. White, then a sophomore student at the private Methodist university in Hardin County. "He wasn't a very big man, but he was big, far bigger than his stature."
Reverend King was a friend of ONU's progressive chaplain, the Rev. James Udy, from the time they attended seminary together. Reverend Udy invited his old friend to ONU. Once there Reverend King delivered a 50-minute speech to a crowd of thousands in the small town on January 11, 1968. His words encouraged change on campus and brought students' attention to issues of racial inequality that had gained little traction in the small rural community.

VIDEO: Memories of Martin Luther King, Jr.'s speech at ONU in 1968
Monday is Martin Luther King, Jr. Day. Government offices and businesses across the country will close in honor of America's most iconic civil rights leader; a man who gave his life fighting for justice and equality. The week ahead will be marked both in northwest Ohio and beyond by community activities and celebrations intended to ensure his legacy lives on.
In Ada, Ohio Northern University will host a 50th anniversary panel discussion to reflect on Reverend King's visit — a visit that marked one of his last speeches on a college campus before an assassin's bullet ended his life on April 4, 1968.
Why Ada?
Sadicka White, looks at her Ohio Northern University yearbook at her Columbus home, Wednesday, January 10, 2018. Known as Dianne Harrison at the time, she was a sophomore at Ohio Northern University when Dr. Martin Luther King, Jr., came and spoke on campus Jan. 11, 1968.
The Blade/Andy Morrison
Enlarge | Buy This Image
Nearly the entire student body packed into Taft Memorial Gymnasium where he spoke, with an overflow crowd listening to the speech in the nearby Lehr Auditorium.
For many in the overwhelmingly white university, his visit raised questions: Why was the civil rights leader coming to Ada? They felt like racial strife, inequality, and segregation might be problems elsewhere, but not in the small town 16 miles east of Lima, said Bob Roberts, an ONU student at the time.
"The black unrest was not in Ada," he said. "The black unrest was somewhere way down there, somewhere in Mississippi. George Wallace was 10,000 miles away. George Wallace was one million miles away."
Still, his visit and his words made an immediate impact on his audience.
"He was electric," Monty Siekerman, ONU's public relations director at the time, said. "You could hear a pin drop. Everyone was really taken by what he had to say."
Reverend King spoke, without notes, on the racial progress that had been made, and the great deal of progress that the country still required. His words challenged the notion that communities like Ada had no role to play in the fight for civil rights.
"So in order to tell the truth, it is necessary to move on, not simply talk about the fact that we've made strides, but honestly face the fact that we have a long, long way to go before the problem of racial injustice is solved in our country," he said during his speech. "Now we don't have to look very far to see this. We can look around in our communities all over the nation."
Ms. White was familiar with the challenges facing a black woman in the United States. She graduated from Glenville High School on Cleveland's east side, a place she described as "99 and 44/100 percent black." From there she went to a school and community in Ada that was nearly exclusively white.
"I had a difficult time making the adjustment. Today they call that culture shock, because I had never gone to school with a majority of Caucasian students," she said. "For me, it was absolutely devastating."
Black students were not permitted in the ONU's Greek organizations by their charters until the end of Ms. White's college career, which left black students outside of the campus social life.
"There wasn't enough of us to create our own [fraternity or sorority,] she said. "On top of that, we would've needed an advisor, but at that time we were there, there was no one of color that was part of the faculty."
She organized a Black Student Union on campus to make demands of the university's administration, including hiring black faculty members and financial aid counselors, and designating a seat on student council for a person of color. She said all of the group's demands were met, and more black students came to ONU in each subsequent year.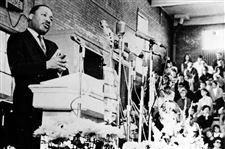 Dr. Martin Luther King, Jr.'s speech at Ohio Northern University on Jan. 11, 1968.
OHIO NORTHERN UNIVERSITY Enlarge
'Vows and faith to truth'

Reverend King's visit to ONU could not have happened without the university's chaplain, Reverend Udy.
"Our chaplain was one of the major instigating forces at that time for activities like this," Alfred Cohoe, a professor of psychology who attended the speech, said. "I was very interested, and I shared Udy's interest in the idea of trying to open people's minds a bit and give them experiences they would not ordinarily have."
He was considered more progressive on social issues than the rest of the campus, which skewed conservative.
"I think he, as a minister, really took his vows and his faith to truth," Ms. White said. "He was far more advanced than some of the people on that campus."
"His role of being a chaplain on our campus was to help open our eyes, to help us understand that there was a world out there greater than the little world that we lived in," Mr. Roberts said.
Revered Udy also brought Maya Angelou to campus, and debated on campus a high-level member of the John Birch Society — a far-right political group. No one he could bring to Ada, though, had the gravitas of the Rev. Martin Luther King, Jr.
"He was a star," said Terry Keiser, a biology insturctor at the time. "There was somebody famous here, and what was he doing at a predominately, almost exclusively,white institution in northwest Ohio in the cornfields? Giving a talk that was meaningful to some, probably many more than we would know today."
Bob Parsons was one of those students that felt the impact of Reverend King's speech long after that day in January.
"I would like to think that his visit to Northern was eye-opening," Mr. Parsons said. "It kind of opened my eyes."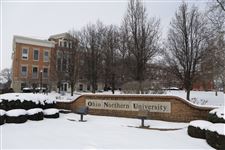 Ohio Northern University in Ada, Ohio.
The Blade/Andy Morrison
Enlarge | Buy This Image
A call to fight
After his trip to Ada, Reverend King spoke at only two other colleges before his assassination. His speech was powerful, leaving many students in a sort of stunned silence as they left the gymnasium. Yet his address did not prompt sudden change on campus.
"I wouldn't say I walked out of there as if it were an epiphany, as if I were struck by lightning," Mr. Roberts said. "But I will say, sitting there and listening to his voice and feeling his presence and purpose in life has really had a long-term effect on my outlook."
Ms. White was inspired to continue her advocacy on campus and in the community against the racism she found in Ada.
"It was a clarion call for us to be engaged and to make the next difference," Ms. White said.
The importance of his stop was solidified for Ms. White upon his death.
"That makes it stick out even more, that he risked his life to help usher in equality and social justice into America," she said. "At that time, people did not cherish and treasure Dr. King the way they look at him today."
"We felt a sense of belonging and a real connection with him," Mr. Parsons said. "Everybody was just stunned."
MORE: At MLK scholarship breakfast, attendees urged to chase dreams
Reverend King concluded his speech with a direct call to fight for justice, a call Ms. White heard loud and clear.
"I haven't lost faith in the future," Reverend King told those gathered at Ohio Northern University 50 years ago. "I still feel that we can develop a kind of coalition of conscience, and with this coalition move on into a brighter tomorrow. With this faith we will be able to do it."
ONU's panel discussion on the King speech will begin at 11 a.m. Thursday, in the Freed Center for the Performing Arts on campus.
Contact Zack Lemon at zlemon@theblade.com, 419-724-6282 or on Twitter @zack_lemon.
Guidelines: Please keep your comments smart and civil. Don't attack other readers personally, and keep your language decent. Comments that violate these standards, or our privacy statement or visitor's agreement, are subject to being removed and commenters are subject to being banned. To post comments, you must be a registered user on toledoblade.com. To find out more, please visit the FAQ.