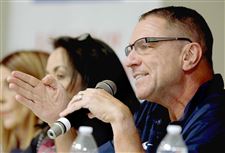 In this file photo, former superintendent Patrick Hickey answers a question during a League of Women Voters candidate forum for the Washington Local School Board at Calvary Bible Chapel in Toledo.
THE BLADE/LORI KING
Enlarge | Buy This Image
Controversial Washington Local school board member Patrick Hickey is now seated on the board, and meetings have been moved to accommodate his ban from district property, but a feud between him and former board member continues with threats by Mr. Hickey of a lawsuit.
Last Sunday, Mr. Hickey sent an email to James Langenderfer, Patricia Carmean, and Eric Kiser, asking them who leaked a document that listed 37 charges against him when he was superintendent of Washington Local. In his email — which was copied to district Superintendent Susan Hayward, Treasurer Jeff Fouke, and two attorneys for the board — he claims the document "severely defamed me and was key to my separation agreement."
RELATED: Location not yet determined for WLS meetings
"I chose to forego due process in exchange for stipulations in the agreement that were agreed to by my wife and myself. If you have zero knowledge of who sent it to The Blade let me know that as well," he wrote in his email.
Mr. Hickey's separation agreement included a stipulation that no "evaluations, directions or disciplinary materials" would be placed in his personnel file after he resigned.
Mr. Hickey gave the trio — former board members who either did not run for re-election or lost in the November election — until 5 p.m. Tuesday to respond, and called the leaking of the document an "unlawful and egregious action."
On Friday, Mr. Hickey declined to comment, citing "possible pending litigation." At least one of those board members doesn't expect a lawsuit to be filed.
Ms. Carmean said she doesn't expect litigation, "because he has too much baggage." She did say, however, that she views the litigation threat as "again, intimidation by Patrick Hickey toward me." Ms. Carmean filed for a civil protection order against Mr. Hickey in 2017, claiming he harassed and threatened her.
Although a magistrate denied the order, she told the pair to not have further contact, adding she would have approved the order if an additional incident occurred.
Ms. Hayward, Mr. Fouke, and Mr. Kiser declined comment. Mr. Langenderfer said he was surprised when he got the email from Mr. Hickey.
"He's always threatening to sue people," Mr. Langenderfer said.
Mr. Hickey resigned in December, 2015, shortly before the school board could consider a resolution to fire him because of 37 charges compiled by a board-hired law firm.
Those charges were detailed in a document provided to The Blade that was the official notice and charges prepared to comply with state law for the termination of a teacher or superintendent. Mr. Hickey was never given a copy of the document because he resigned before the board could consider a resolution to terminate him.
EDITORIAL: Hickey is a master of contention and chaos
Among the charges were allegations he failed to inform the district that he left Addison Community Schools in Addison, Mich., in 1990 after accusations surfaced that he had inappropriate relationships with students.
The separation agreement between Mr. Hickey and the district limits his access to district property for events other than those related to his children. The board then banned him from all district property after an altercation between Mr. Hickey and school officials at a basketball game.
Mr. Hickey was not allowed to attend the board's first meeting in 2018 because of the ban, but the board voted in January to temporarily move meetings off-site so he could attend.
The move could allow a board majority — likely Mr. Hickey with board members Lisa Canales and Mark Hughes — to rescind Mr. Hickey's ban from district property, and renegotiate his separation agreement.
On Friday, Washington Local announced that it would be moving meetings in January, February, and March to the Conn-Weissenberger American Legion Post 587 at 2020 W. Alexis Rd.
Contact Nolan Rosenkrans at nrosenkrans@theblade.com, 419-724-6086, or on Twitter @NolanRosenkrans.
Guidelines: Please keep your comments smart and civil. Don't attack other readers personally, and keep your language decent. Comments that violate these standards, or our privacy statement or visitor's agreement, are subject to being removed and commenters are subject to being banned. To post comments, you must be a registered user on toledoblade.com. To find out more, please visit the FAQ.