JaLynn Livingston recalls her initial struggles acclimating to Bowling Green State University.
A BGSU sophomore and Detroit native — where the population was 82 percent black as of the last U.S. census — she said it was a big change for her to attend a mostly white school.
"I had to overcome the culture shock," she said. "We have a very small black community here, and I honestly never seen that many Caucasian people until I got here."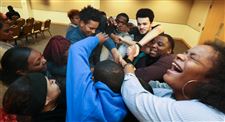 High school and college students begin to untie their "human knot" in an ice-breaker exercise at the 18th annual Black Issues Conference at Bowling Green State.
The Blade/Jetta Fraser
Enlarge | Buy This Image
But on Saturday she most certainly wasn't alone. More than 100 people joined Saturday at BGSU to discuss and learn about the challenges African-Americans are confronted with in America and while attending college.
Students, faculty, and community members gathered at the Bowen-Thompson Student Union to partake in the university's 18th annual Black Issues Conference. The conference was part of a series of events coordinated by the Office of Multicultural Affairs to honor Black History Month.
The conference kicked off with a panel discussion among students describing their experiences as minorities attending a predominantly white institution.
Most agreed they struggled to avoid feeling isolated or find a safe space where they could be around other students to whom they could relate.
BGSU enrolled 14,872 undergraduate students in fall 2016 — 77 percent of whom were white compared to 9 percent black and 4 percent Hispanic, state records show.
About 50 people sat in the conference room during the discussion. The student panel encouraged other students, and area high school students in attendance, to utilize the resources available at the university to make the transition into college easier, such as joining the Black Student Union.
"The purpose of this conference is to provide opportunities for, of course, black people but also all people to come together and learn about some of our issues, some of our concerns, and celebrate some of our achievements," said Sheila Brown, the interim administrator-in-charge and director of the Office of Multicultural Affairs.
"I think awareness is the most crucial thing a person can gain from participating."
Talks were also held about systematic and institutional oppression, and how racism has permeated society via institutional structures and ideological beliefs. PJ Jones, a 2010 Bowling Green State University alumna and assistant director of multicultural and diversity affairs at the University of Florida, gave the keynote address, "Art is Power."
Addressing the audience during the luncheon at the conference, BGSU's Interim President Rodney Rogers said it's critical that the university has an inclusive environment.
"It is imperative that we continue to support and enhance our culture to make sure everyone feels valued, everyone is a part of this community, and that we have a chance to learn from each other from each of our perspectives," he said. "It's important that each of us belong here and that we have the place where we're all connected."
For the remainder of the conference, students and community members gave research presentations about African-American society.
The presentation topics included black popular music and its cultural influences; the importance of social justice; black womanhood; food insecurity in both American and African-American culture, and closing the gap in elementary education.
Ms. Brown said it's critical that not only minority students but all students are exposed to some of the issues in the African-American community.
"The more we know, the more we can do. The more problems we can solve, the better we're educated about them."
Contact Javonte Anderson at janderson@theblade.com, 419-724-6065, or on Twitter @JavonteA.
Guidelines: Please keep your comments smart and civil. Don't attack other readers personally, and keep your language decent. Comments that violate these standards, or our privacy statement or visitor's agreement, are subject to being removed and commenters are subject to being banned. To post comments, you must be a registered user on toledoblade.com. To find out more, please visit the FAQ.