Gun owners weigh in on national debate at Swanton shooting range
4/15/2018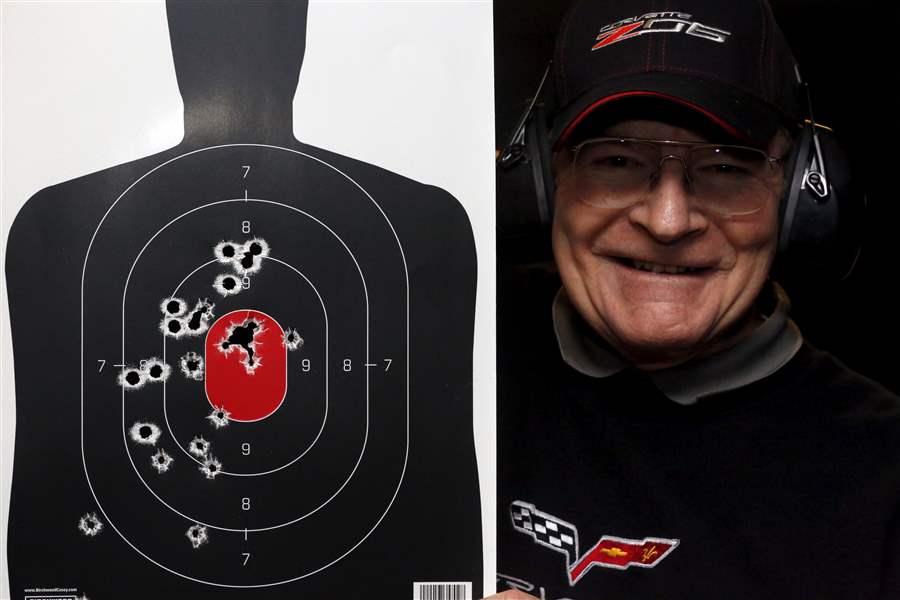 Jim Weber, of Sylvania, holds his target after shooting in the range during Cleland's Outdoor World's "bullets and brunch" event on April 15, 2018.
The Blade/Amy E. Voigt
Buy This Image
Nikki Cassidy had never shot a gun before Sunday, when she joined her husband at Cleland's Outdoor World for the new owner's first brunch and bullets event.
"It was scary but exhilarating," Mrs. Cassidy said. "It's a weird feeling. I don't know how to explain it. It's something you have to experience."
Ken Shields has owned the longtime Swanton store since February, and hosted the Sunday morning event to get further involved in the community.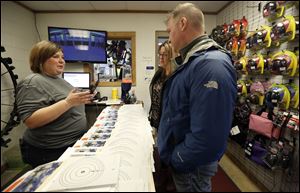 Tiffany Densmore, left, helps Nikki Cassidy, center, and Jim Cassidy, right, of Toledo, get their guns and ammunition during Cleland's Outdoor World's Bullets and Brunch event on April 15, 2018.
"It gives somebody something different to do," he said of these sort of special events, which he hopes will be quarterly going forward. "We want to find ways to get involved in the community."
The event brought gun owners, from first-timers to lifelong shooters, together for breakfast food and shooting.
A national gun control movement was galvanized by the tragic February school shooting in Parkland, Fla., and the shooters in Swanton had plenty of thoughts on that movement.
"I do believe there needs to be some things in place for any gun, whether its a .22 rifle, to your handgun should be on the same plateau with all your background checks," Scott Stoops, of Swanton, said. He is a competitive shooter, competing in defensive pistol contests.
"The camaraderie, the challenging aspect is a lot of fun, especially when you start involving food," Mr. Stoops said.
Mr. Shields thinks the key to any gun control discussion is keeping a conversation based on facts.
"I think there's so much misinformation out there," he said. "It's a passionate debate on both sides. The hard part is making it a conversation."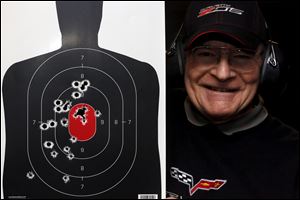 Jim Weber, of Sylvania, holds his target after shooting in the range during Cleland's Outdoor World's "bullets and brunch" event on April 15, 2018.
He follows all of the laws, he said, and works to educate any would-be gun owner on how to keep a gun safely. His biggest suggestion is to fix the national background check system that offers incomplete information to gun sellers. He also wants to see mental health status included in those checks.
"We're responsible people for a reason," he said. "We don't want to give crazy people guns and stuff like that. We want to be able to stop people who want to do something like that from that happening. Half of the stuff that's out there now is not enforced properly."
Mental health was on Jim Cassidy's mind. A 23-year military veteran who works as a park ranger, Mr. Cassidy is around guns often, though his passion lies more in fishing than hunting.
"In my opinion, we need to have a conversation about gun control, but I don't understand why we aren't having a conversation about mental health," he said, adding that a large population of those incarcerated are struggling with mental health issues.
Addressing mental health was echoed by Kym Heinl, who shoots regularly and thought the Sunday morning event seemed like a good time.

"You could have knife control if you give a knife to someone who is a deranged lunatic," Ms. Heinl said. "You can take the guns away from the law-abiding citizens all you want, but you're not going to take them away from the bad guys."

Contact Zack Lemon at zlemon@theblade.com, 419-724-6282 or on Twitter @zack_lemon.