Flooding hits Toledo, nearby communities
4/15/2018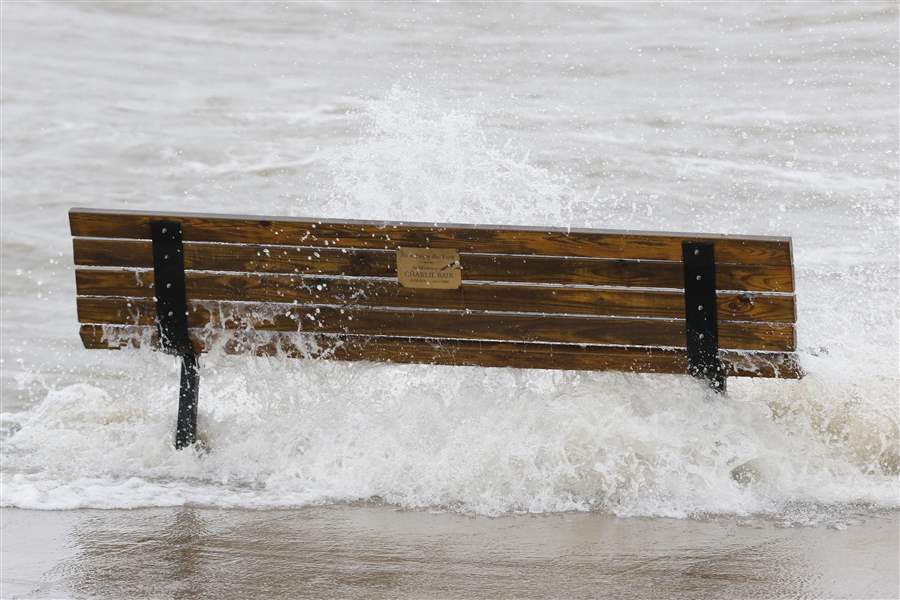 Waves crash the pier in Luna Pier, Mich. Sunday, April 15, 2018.
The Blade/Andy Morrison
Buy This Image
LUNA PIER, Mich. — It was an unusually busy Sunday for Glen Pafford, who was already getting calls from concerned customers with soggy carpets after the weekend's heavy rains and flooding.
"It seems like I'm the first person they call," said Mr. Pafford, 59, who owns Victory Flooring Center in Monroe, recalling the conversations: "Sorry to bother you on a Sunday but my house is under water in Luna Pier."
Mr. Pafford had parked his SUV to take pictures of the flooding.
"I've never seen it like this," he said. "The good thing is it went down fast. It's draining already and doing everything it's supposed to do."
Windblown water and waves flooded low-lying streets near Lake Erie on Sunday, with a lakeshore flood warning still in effect for Monroe County but dropped for Ohio counties to the south and east. Several homes were evacuated in Monroe County.
While periodic heavy rain throughout the region is forecast to cause some river flooding as well, on Sunday the main issue was Lake Erie, which as of 2 p.m. was more than 3 feet above its recent pool level at Toledo and 10 inches lower at Gibraltar, Mich.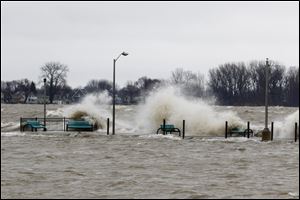 Waves break on the pier in Luna Pier, Mich. Sunday, April 15, 2018.
Toledo crews placed pumps and sandbags Sunday morning in some flooded parts of Point Place, city spokesman Ignazio Messina said.
"Everyone knows Lake Erie is supposed to drain out by going over Niagara Falls," Mayor Wade Kapszukiewicz said in a statement. "With a persistent northeast wind like this it drains into Toledo. We are working tirelessly to help home and business owners."
High water in Lake Erie's western basin also inundated the Lake Erie Islands, cutting South Bass Island in half because of flooding and forcing ferry service to be suspended.
Water backing up in creeks flowing into the lake closed several state highways in western Ottawa County, including State Rt. 2 between State Rts. 590 and 358; State Rt. 53 near Pebble Beach on Catawba Island and between Paulson Road and State Rt. 523 between Port Clinton and Fremont; State Rt. 19 between Duff-Washa Road and Route 2, and Route 523 over its entire length between Routes 53 and 19.
By mid-afternoon, however, diminishing winds meant the flooding in Point Place had significantly receded.
Along 121st Street in one of the neighborhood's more exposed areas, the receding water left trails of landscaping mulch and driftwood behind at its high point, and pumps could be heard at several houses as well as the city-manned pump at the end of the street.
Bernard Wagner said he had seen water surging up the street from his house in the 3000 block of 121st, and had about an inch in his basement, which he blamed on inadequate city storm drainage. But he also said the backup wasn't as bad as it was from another storm several years ago, when he had 8 inches in his basement.
"I guess it's the price of living on a peninsula too," Mr. Wagner said. "I love being cut off from the rest of the city, but this is the price we pay for it."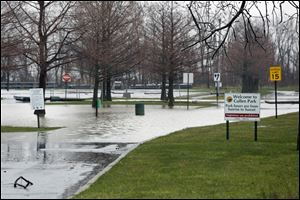 Cullen Park is closed due to flooding on April 15, 2018.
A lakeshore flood warning in Monroe and Wayne counties was to expire at 10 p.m. Sunday. The weather service said there was "significant flooding" in Luna Pier, North Shores, and Grand Beach in Michigan.
Luna Pier Police Chief Tim Ames sat in his police cruiser Sunday evening to block access to the bridge leading to Allen Cove Road, which had been closed earlier in the day.
The Luna Pier Fire Department began asking Allen Cove residents to voluntarily evacuate around 2:30 a.m., and "most everyone had," Chief Ames said. Surveying the flooding around 6 p.m., the chief said it had already receded from the time he arrived early Sunday afternoon.
"It looks like it's dropped about 2 feet," he said.
Farther south, Todd Cannon, 46, and his family watched waves crash along the shore at the city's public beach and pier.
"This is definitely a bad one," Mr. Cannon said, and recalled hearing storm sirens in the early morning hours. "We heard them every 15 minutes until about 5 a.m."
Flood warnings were posted, meanwhile, for the Tiffin and St. Joseph rivers in Fulton, Williams, and Defiance counties and the Portage River near Woodville.
As of noontime Sunday when the warnings were issued, none of the rivers was near flood stage, but continuing rain and runoff were expected to push the Tiffin out of its banks Sunday evening and flood the Portage and St. Joseph by early Monday morning.
The St. Joseph was forecast to crest 1.2 feet above flood stage Wednesday afternoon, while the Tiffin's crest was forecast for 2.3 feet above flood stage early Thursday morning. The Portage was expected to crest Monday afternoon 0.3 feet above flood stage before retreating to its banks by nightfall.
A flood watch also was in effect for the Blanchard River near the village of Ottawa in Putnam County, but as of Sunday afternoon no similar watch or warning had been posted for the Blanchard at Findlay, which historically has been one of the region's most flood-prone locations.
As of 8 p.m. Sunday, the National Weather Service had reported 1.47 inches through the weekend at Toledo Express Airport, 1.43 inches at Findlay, 1.36 inches at Defiance, 1.51 inches in Port Clinton, and 1.61 inches at Monroe.
"The good news is that the heavier rain is going to be shifting eastward," Karen Clark, a weather service meteorologist in Cleveland, said Sunday afternoon.
Contact Lauren Lindstrom at llindstrom@theblade.com, 419-724-6154, or on Twitter @lelindstrom.