Kent State senior wins McNab Block scholarship
4/16/2018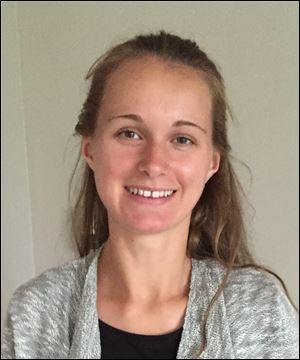 Davy Vargo, the 2018 Marge McNab Block Scholarship recipient from Kent State University.
Davy Vargo, a Kent State University senior majoring in magazine journalism, was awarded the Marge McNab Block scholarship on Sunday.
Ms. Vargo of Aurora, Ohio, has a 4.0 grade-point average.
In addition to her magazine journalism major, she will graduate with a minor in athletic coaching.
The $1,000 award from The Blade is presented each year to the senior female journalism student with the highest grade-point average at Kent State.
Ms. Vargo has written stories about a woman who attempted suicide; a Hudson, Ohio, resident who survived the World Trade Center attacks; students who suffer from hearing loss, and the unusual names of some students.
She hopes to pursue a career in feature writing.
The Marge McNab Block Award is named for the late Mrs. Block, a Kent State graduate who was a reporter and director of features and women's news at The Blade. Her husband was Paul Block, Jr., co-publisher of The Blade from 1942 until his death in 1987.
Mrs. Block died in 1960.