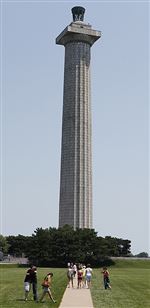 Perry's Victory and International Peace Memorial will be reopened with a ribbon-cutting ceremony Saturday at 10 a.m.
The Blade
Enlarge | Buy This Image
PUT-IN-BAY — Local dignitaries will celebrate the reopening of Perry's Victory and International Peace Memorial this weekend.
The 352-foot tall structure on South Bass Island was off limits to the public last summer as workers cleaned and repointed the granite column, and replaced broken tile inside the memorial.
A ribbon-cutting ceremony is set for 10 a.m. Saturday. U.S. Rep. Marcy Kaptur (D., Toledo), state Rep. Steve Arndt (R., Port Clinton), and state Sen. Randy Gardner (R., Bowling Green) will be in attendance.
The memorial honors those who died in the Battle of Lake Erie during the War of 1812.
Guidelines: Please keep your comments smart and civil. Don't attack other readers personally, and keep your language decent. Comments that violate these standards, or our privacy statement or visitor's agreement, are subject to being removed and commenters are subject to being banned. To post comments, you must be a registered user on toledoblade.com. To find out more, please visit the FAQ.