Two murals are the newest splashes of color in the Glass City to showcase an ongoing partnership that provides experience for student artists and beautifies troubled Toledo neighborhoods.
Gordon Ricketts, a senior lecturer in the Bowling Green State University School of Art, has cooperated with local organizations annually since 2010 to host a two-week student art workshop for course credit.
"We normally have more than one mural. It depends on the size of the space," he said.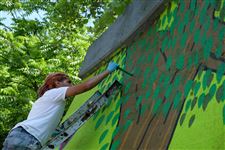 BGSU art student Paul Verdell, of Perrysburg, painting the East Broadway mural. Students in the Art Department of Bowling Green State University paint a mural on East Broadway in east Toledo on Thursday.
The Blade/Jetta Fraser
Enlarge | Buy This Image
Students on Thursday finished a "Viva Toledo" mural on the side of the L & W Market at Western Avenue and Linden Place in the city's Old South End. Mr. Ricketts partnered with the Sofia Quintero Art & Cultural Center for the piece.
Lorenzo Florez, arts coordinator for the center, helped identify the location and coordinate with the property owner. He also collaborated with students as they designed the mural.
"It gives the community something to be proud of," he said. "Every time they do these murals, we get a lot of community feedback."
The "Viva Toledo" mural features the Veterans' Glass City Skyway and the Anthony Wayne Bridge, along with images representing the Toledo Zoo.
"They did a great job incorporating those very positive aspects of Toledo," Mr. Florez said. "It's festive and they did a great job with color choices."
A second mural in partnership with the East Toledo Family Center was finished Friday on East Broadway Street near Vinal Street in East Toledo. It features a girl on a swing hung from a tree growing from a lunar landscape.
Mr. Ricketts said the mural is along a major corridor where children walk to school.
"The area has been blighted and this is kind of a bright spot," he said. "All the murals there are either family-oriented, education-oriented, or children-oriented."
The students, of which there were 16 this year, learn to collaborate with other artists and with the community as they work together designing and painting the murals.
"It's an opportunity to work on a large-scale process that they don't normally get to do. Most artists work in a studio on a lot smaller scale," Mr. Ricketts said. "They learn an understanding of community outreach, and we work in primarily marginalized areas so there's a cross-cultural component.... We've made it a point that we are about being a part of the community."
Particularly in South Toledo, the murals have "really defined the area," Mr. Ricketts said.
They have become iconic in many ways and have helped lift up neighborhoods that have faced their fair shares of trouble over the years, he said.
"The people who live in the area have found them as visual signs that things are getting better and things are happening in their community," Mr. Ricketts said.
Contact Alexandra Mester at: amester@theblade.com, 419-724-6066, or on Twitter @AlexMesterBlade.
Guidelines: Please keep your comments smart and civil. Don't attack other readers personally, and keep your language decent. Comments that violate these standards, or our privacy statement or visitor's agreement, are subject to being removed and commenters are subject to being banned. To post comments, you must be a registered user on toledoblade.com. To find out more, please visit the FAQ.