A kickboxing fight? A fierce adaptation of "Heads, Shoulders, Knees, and Toes?"
The sounds coming from the gym at St. Ursula Academy marked a near-daily tradition not for the faint of heart. It would probably be an exaggeration to say the bursts of 14 female adolescent voices shouting "HA!" could have shattered windows.
Probably.
WATCH: St. Ursula's dance team is one of rising number across country
It was the school's dance team, and they were practicing "pom" — a staple style at dance competitions that involves rapid punching, yelling, duck-facing, and back-flipping. Coach Morgan Melchert called instructions over the music as the girls churned the gym air with their fists. (They don't break out their pom-poms for every practice.)
Kenedie Morr, center, Jessie O'Loughlin, left, and Kylie Ceglio, right practice a routine with the St. Ursula Academy Dance Team during practice on May 23, 2018.
The Blade/Amy E. Voigt
Enlarge | Buy This Image
"Heads! Faces! Chins!"
Nationally, competitive dance has gained popularity on the high school level, thanks to its increased presence on YouTube and TV, dancers and coaches say. Channels like "Millennium Dance Complex Los Angeles" — a studio made Internet-famous by its YouTube videos — and shows like So You Think You Can Dance have inspired more young people to join their schools' dance clubs.
In Ohio, those clubs are becoming teams. Lenee' Lagnese, cheer and dance coordinator of Ohio's state competition, said more schools are starting dance teams and entering dance competitions because of a rise in skill level across the board, which she attributes to dedicated coaches and increased interest. Two of Toledo's top high school dance groups, at St. Ursula Academy and Central Catholic High School, gained sport status within the last five years.
Since tryouts in April, St. Ursula's dancers have been preparing for dance camp — held in June by the organization that hosts the national championships — where they expect to qualify for nationals by winning a trophy.
Unlike other athletes, dancers at both schools practice year round, which means they can't play other sports.
"Most people who dance only dance," said Kylie Ceglio, 17, a senior captain. Kylie started dancing as a toddler at Toledo's Company C Dance Club, like many of her teammates, and has stuck with it because she feels it's a "good way to express yourself."
"I felt I excelled at it more than I did at anything else," she said.
To the untrained eye, St. Ursula's pom routine looked like a hybrid of performing art, martial art, pep squad, and team sport, combining twirls with high kicks, somersaults, squats, and shouts. It also looked perfectly synchronized.
The coach and her dancers knew better.
"Head spots were like everywhere," Ms. Melchert said when the run-through ended. "We're not going to do the whole pep-talk thing every practice. Let's just be better."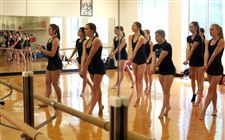 The St. Ursula Academy Dance Team is reflected in the mirror during practice.
The Blade/Amy E. Voigt
Enlarge | Buy This Image
The sprint of competitive dance, a pom routine lasts for 2 minutes and requires muscle and stamina.
"Everyone has to be very strong," Ms. Melchert said.
And everyone has to look happy. In the dance world, there's no tolerance for the grunts and stifled swears of game sports. Poise, grace, and smiles are part of the routine. Perfect coordination is the ideal.
"People call us robots!" Tori Hicks, 17, another senior captain, said with a laugh.
At dance competitions, teams can enter up to three categories: pom, jazz, and hip-hop. Judges scrutinize dancers to detect missteps, deducting points for lapses in synchronization and style.
This past year, at Ohio's state championships, St. Ursula took first place in pom and jazz and second place in hip-hop, nudged out by Central Catholic High School.
Central Catholic's dance team gained sport status three years ago, two years after St. Ursula's. Nikki Toland, the dance coach at Central Catholic, attended the school herself and co-founded the Irish dance team — named for the school's mascot, the Irish, not for the style of dance — with her best friend, Toledoan and current Ohio State dance coach Melissa McGhee.
At that time, Central Catholic's dancers performed at pep rallies but never competed.
"It's crazy how much it's grown over the years," Ms. Toland said of the school's dance program.
As dance coach at Ohio State, Ms. McGhee, who graduated from the university in 2011, has observed a rise in both interest and skill, which she attributes to a "trickle-down" effect from TV and the Internet to colleges and high schools.
"Kids start training younger and just have better access to resources, whether that's YouTube or a studio," Ms. McGhee said. "So you're seeing more talent at a younger age."
Her team's move to athletics during her junior year at Ohio State "changed the game," she said. When she was a college student, dance teams did not recruit, but now it's a major part of her job, Ms. McGhee said. She recruits heavily from Toledo, which has supplied her 20-person team with eight dancers — from St. Ursula, Central Catholic, Southview, and Perrysburg — over her seven years of coaching.
Unlike college teams, high school teams often accept students without technical training and do not recruit. To be synchronized, teamwork is essential.
After a full-out run-through in the gym, St. Ursula's dancers huddled around their coach to debrief.
The girls alternated between fixed stares and giggles as they watched a video of the routine they had just performed on Ms. Melchert's iPad. Afterward, they followed their coach's blunt example, calling out suggestions without glossing over flaws.
"You were spatially aware," Ms. Melchert said in a rare concession. "I'm just being hard on you because I love you."
But no one seemed to mind criticism or need support.
Competitive dance isn't about individual dancers, the team's captains later explained. It's about the group — and that's what makes them a team.
Contact Lily Moore-Eissenberg at lillianme@theblade.com, 419-724-6368, or on Twitter @LilyM_E
Guidelines: Please keep your comments smart and civil. Don't attack other readers personally, and keep your language decent. Comments that violate these standards, or our privacy statement or visitor's agreement, are subject to being removed and commenters are subject to being banned. To post comments, you must be a registered user on toledoblade.com. To find out more, please visit the FAQ.