Lambertville mother mourns teens hit, killed by pickup truck
7/11/2018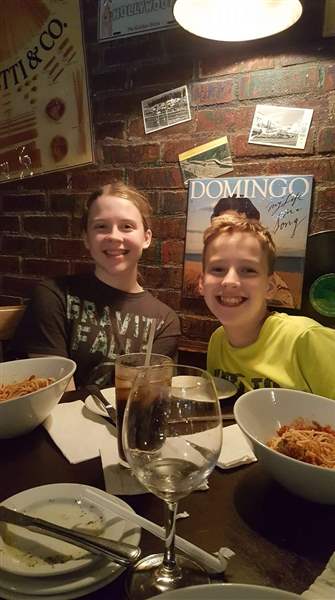 Photographs submitted by the mother of Justin and Alyssa Haun, who were killed Wednesday in Bedford Township when they were struck by a truck while walking in a neighbor's lawn.
LAMBERTVILLE — Justin and Alyssa Haun had big dreams.
Justin, 13, planned to become a neurosurgeon when he grew up. He was going to enroll in Monroe County Middle College — which allows high school students from local public districts to earn college credits — in the fall so that he could get a jump start on his plans.
Alyssa, 16, had recently settled on chemical engineering, and wanted to earn a doctorate. She'd had other ideas before, mother Barbara White said, but most involved advanced degrees.
RELATED: Two teens struck, killed by truck in Bedford Township | Bedford school district mourns loss of teens
Those dreams were probably far from their minds Wednesday when, in the midst of summer break from school, Justin decided he wanted to get food from Wendy's, and Alyssa said she'd go with him on the short walk from their mother's house.
But those dreams are what Ms. White holds close now, after a truck drove onto the grass on Sterns Road near Hidden Valley Drive and fatally struck both children. Now Ms. White and her ex-husband, Barry Haun, are starting a charitable foundation to raise money in Bedford and Highland school districts in honor of their children.
"Our kids had high hopes for the future, and we don't want to let this be something that dies now," she said.
At about 12:34 p.m. July 4, a vehicle driven by Raymond E. Reyome, Jr., 49, of Erie, Mich., traveled off the edge of the roadway, across the shoulder, and onto the roadway easement, striking the two teens who were walking on the lawn of a private residence, according to a Monroe County Sheriff's Office news release.
The teens were taken to ProMedica Toledo Hospital, where they later died, the sheriff's office reported.
The sheriff's office did not respond to a request for comment Tuesday.
Much of Wednesday is still a blur for Ms. White. She's fighting off guilt in the back of her mind for not driving them down the street to get food.
She remembers hearing an emergency vehicle's short siren blast soon after her children left their home. She remembers immediately starting to pray. She remembers walking to the front of her house and seeing an emergency vehicle parked outside.
She ran out the door, and saw the truck in a neighbor's yard. She was a stopped by a deputy.
She remembers dropping to her knees, the furious calls to family and friends, and going to the hospital.
Justin was an incoming freshman at Bedford High School and had attended Bedford Junior High School. Alyssa Haun was not a Bedford student and was visiting the area from her home in the Medina, Ohio area.
Justin was the glue in the family, Ms. White said. He'd help take care of his twin sister, Rachel, who is hearing impaired and autistic. Their bus driver would frequently text their mother to say how sweet and kind he was with his sister.
"He was always the epitome of manners," she said. "Everybody said he was so polite."
He excelled in math, and was on the Quiz Bowl team and ran cross country. A giving spirit, Ms. White said recently her son found $20 in a parking lot, and almost immediately gave the money to a homeless man.
In a recommendation letter for Monroe County Middle College, Bedford High School track coach Jonathan Scheffer called Justin an excellent student who was well liked and "full of energy and wit."
"If you are looking for [an] intelligent, hardworking, personable young man for your school, you should be looking at Justin Haun."
Alyssa stayed with her father in the Cleveland area while Ms. White, Justin, and Justin's twin sister, Rachel, stayed in southeast Michigan, a decision made so that the introverted teen could stay around friends, Ms. White said.
Alyssa had a big personality within the family, too, so the arrangement also helped Justin blossom on his own. The siblings saw each other every weekend.
Both were strong students, according to their mother and their schools. Alyssa played violin, ran cross country, and was an active Girl Scout. She was entering her fourth year in the Toledo ZooTeen program, and program staff called her a "bright and generous spirit" in an email to the family.
She was deeply empathetic, Ms. White said, and while exploring her faith with her family, would often ask her mother why God allowed so much pain and suffering to exist in this world.
Since the death of her children, Ms. White -— who said her faith was strengthened after her divorce — has accepted that people have free will, and that free will can cause others harm. She's stayed strong the past week through her connection with God.
"I feel like God has been preparing me to be able to handle such a tragic, horrific event," Ms. White said.
And she's relying on that faith to avoid a descent into anger. While with the hospital chaplain, she asked him to pray for the people responsible for the death of her children.
"To me that's the best thing I can say, I just hope they come to know God," she said.
Services for Justin and Alyssa Haun will be held July 14 at Bedford Alliance Church, 8645 Jackman Road, Temperance. Visitation will begin at 1 p.m., with the memorial service at 2 p.m., and a gathering will be held following the service at the American Legion Hall, 11601 Lewis Ave.
A Go Fund Me has been started to raise money for the planned charitable fund in Justin and Alyssa's memory. As of Tuesday morning, more than $11,000 had been pledged.
To donate to the planned charitable fund, visit www.gofundme.com/futures-for-alyssa-and-justin-haun.