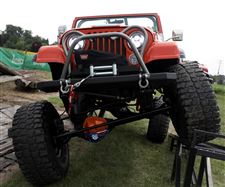 Ted Willing's 1982 Jeep Scrambler with an AMC 401 during the kickoff event of Jeep Fest at the Monroe Chrysler Dodge Jeep Ram Superstore in Monroe, Mich., on Friday.
The Blade/Kurt Steiss
Enlarge | Buy This Image
The first of the three-day Toledo Jeep Fest had Pegg and Russ Doerr smiling at the Monroe Dodge Chrysler Jeep Ram Superstore.
The Toledo couple had just finished driving a Jeep up steep hills and uneven ground on an 18-obstacle-off-road course at the store.
"This was nice to experience the off-road view," Mr. Doerr, 82, said. "We've never done that before."
WATCH: First day of Toledo Jeep Fest
More than 60,000 people are expected to venture to Toledo Jeep Fest this weekend, and it started all afternoon at the Monroe dealership.
Hundreds of people, some from as far as Maryland and Colorado, took turns driving the course while others enjoyed live music and eating from a couple of food trucks at the store.
"Jeep is such a huge part of the region," said Ralph Mahalak, Jr., the dealership's owner. "We got committed to Jeep 16 years ago when we built this off-road course, and we built it to support the workers at the Jeep plant in Toledo."
This weekend's Toledo Jeep Fest is to celebrate the vehicle and leans into the momentum building since 2016, when 40,000 local and out-of-state people celebrated the brand's 75th anniversary with the first local Jeep Fest event.
The day continued in the evening at Promenade Park in downtown Toledo with Oliver Hazard, an indie/folk trio from Waterville, playing songs from its recent debut album 34 N. River as the opening act for headliners KC and the Sunshine Band.
Thousands of people watched the band open its set with its 1976 disco hit "Shake Your Booty," followed directly with the 1975 song "Boogie Shoes."
In a recent interview with The Blade, frontman Harry Wayne Casey said he still enjoys playing hits like "Get Down Tonight" and "That's The Way (I Like It)," even though it's been 40 years since they were written.
"Music is the soundtrack to all of our loves," he said. "To go and see it live just solidifies that part of our life and that part that brings happiness to us. I love doing it, and there's no better feeling. It really is my only connection to everyone."
While ProMedica is a sponsor of Jeep Fest, Steve Miller, general manager for the SeaGate Convention Centre and Huntington Center, said hosting a concert at Promenade Park as part of the festival was a natural fit.
"So many great things are happening in downtown Toledo," Mr. Miller said. "With everyone coming into town for Jeep Fest it was a great opportunity to showcase Promenade Park and the downtown atmosphere."
Among thousands of people who showed for a night of disco was Katina Holland, 61, of Perrysburg.
Ms. Holland said she's seen KC and the Sunshine Band about six times. When asked if she had any favorite songs, her answer was simple: "All of them."
"To me he was funky," she said "It wasn't the techno disco. He was really more funky."
More than 1,000 Jeeps continue the action on Saturday as they parade along Summit, Jackson, and Huron streets starting at 11 a.m.
Of course, the off-road obstacle course was only a warm-up to the weekend's worth of festivities for Mr. Doerr.
"It was fun," Mr. Doerr said. "We thought it was another thing in our life that we would enjoy doing."
Contact Geoff Burns at gburns@theblade.com or 419-724-6054.
Guidelines: Please keep your comments smart and civil. Don't attack other readers personally, and keep your language decent. Comments that violate these standards, or our privacy statement or visitor's agreement, are subject to being removed and commenters are subject to being banned. To post comments, you must be a registered user on toledoblade.com. To find out more, please visit the FAQ.