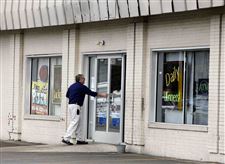 In this photo taken March 23, 2011, an unidentified man enters the Players Club Internet Cafe in Columbus.
ASSOCIATED PRESS Enlarge
Those who want to operate sweepstakes terminal cafes in Toledo may soon need permission from city council before they open their doors.
Toledo City Council on Tuesday will vote on whether to require that all such businesses secure a special-use permit, a process that Councilman Tyrone Riley said will give the public a chance to weigh in and give city council more oversight.
"I firmly believe that the neighborhoods should have notice of businesses that are located in their area, especially Internet cafes," Mr. Riley said. "I think the community needs to know that these types of businesses wish to do business in your neighborhood, and you should be able to have some input."
Part of the special-use permit application process is a public hearing where interested parties can speak for or against the proposal before councilmen make their decision. Mr. Riley also wants to ensure that the cafes cannot operate within 1,000 feet of a school, playground, public library, or place of worship.
The councilman first pitched the new requirement in April after Mercy Health and Central Catholic High School officials expressed concern about the possibility of such a business opening in a former bank building in the Cherry Street corridor. Sweepstakes terminal cafes offer electronic games of chance similar to slots and sometimes drum up opposition from those who contend the establishments promote gambling.
"Some neighborhoods might not want that in their backyard. They may think it provides the wrong type of environment for the residents, and therefore they may say they don't want it, and they should have that opportunity," Mr. Riley said, though he added that he does not intend the new rules to prevent any cafes from opening.
Cafes that are already open and properly licensed by the city will be grandfathered in and not have to apply for a special-use permit to stay open, Plan Commission Director Tom Gibbons said.
Sweepstakes terminal cafes must obtain a license annually from the city, and in order to receive that they must be in compliance with the state attorney general's office. While researching Mr. Riley's request to require a special-use permit, city officials found there are 13 cafes in the city and 10 are unlicensed.
Councilman Yvonne Harper last week said she wants more information about how the establishments can open without a license. Operating without one is considered a fourth-degree misdemeanor and violators can be fined up to $250 or jailed up to 30 days, according to Toledo municipal code.
"I was not shocked but concerned of the amount of sweepstakes cafes that are out there and not licensed," she told her fellow councilmen. "I'm just concerned about it. I've gotten some calls and feedback on there."
Paul Syring, general counsel for the city, said license violations are often discovered either when a cafe owner is trying to sell the property, if they need a loan from a bank, or if neighboring businesses or residents complain to the city. Otherwise, the businesses often operate under the radar until they're caught.
"Neighbors and businesses will complain to the city believing it is unlicensed or there is illegal activity related to the establishment," he said.
Should council pass the new special-use permit requirements, the city could obtain an injunction to shut down a location if it does not obtain the proper permitting. But Mr. Syring said officials likely would work with the business to bring it into compliance before going that route.
Council President Matt Cherry told his colleagues last week that he supports Mr. Riley's proposal.
"This would only help us further know where these are and help us regulate them a little more, so this is a really good piece of legislation when it comes to that," he said.
Council meets at 4 p.m. Tuesday at One Government Center.
Contact Sarah Elms at selms@theblade.com, 419-724-6103, or on Twitter @BySarahElms.
Guidelines: Please keep your comments smart and civil. Don't attack other readers personally, and keep your language decent. Comments that violate these standards, or our privacy statement or visitor's agreement, are subject to being removed and commenters are subject to being banned. To post comments, you must be a registered user on toledoblade.com. To find out more, please visit the FAQ.