Just one year after the Lucas County Pit Crew launched its outreach program, Humane Toledo, the organization is again branching out to provide assistance for pet owners in need.
The dog rescue group will open a pet food bank next month. Executive Director Jean Keating said simply feeding their pets appropriate meals is a challenge for many area families.
"The primary goal is to support people who are struggling to find resources to keep their pet," she said. "Food is the biggest need."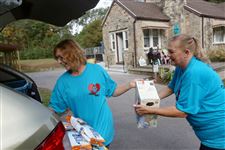 Nancy Fisher gets a hand with donations for a pet food bank from Malysa Bell.
THE BLADE/KATIE RAUSCH
Enlarge | Buy This Image
Humane Toledo volunteers regularly walk Toledo neighborhoods, going door to door to check on animals' well-being and offer help as needed. The group gives out food, pet supplies, vouchers for spay/neuter surgery, and humane dog tethers. It has also fixed and upgraded dog houses or fencing.
The initiative has helped about 250 to 300 families in its first year, Ms. Keating said.
"I don't think we really anticipated how great the need was," she said. "I think we were overwhelmed and realized there are so many areas in the city where people are struggling. We haven't been able to circle back to neighborhoods we've already visited like we thought we would."
Volunteer Nancy Fisher said though some are wary or suspicious, most residents are receptive to Humane Toledo.
"We see people who love their animals and either just need some education on proper care for animals or don't have the means to do that," she said. "We aren't looking to take away people's pets. We just want to help them be better owners."
Ms. Keating said Humane Toledo first seeks to work with owners and help improve a situation, but will forward information on possible cruelty or neglect cases and improper tethering to the appropriate authorities if needed.
The pet food bank came about as a way to continue providing assistance to families in need beyond the initial contact.
"For some people, the need doesn't end in two or three months," Ms. Keating said. "We thought this would be a better way for us to continue to support some of the families we've helped."
Renée Blanke of East Toledo got connected to Humane Toledo about three months ago when searching for help to feed her 6-year-old mixed-breed dog, Miranda.
"I was down and out, just in between jobs," she said. "My dog is my world. She's like my kid."
Humane Toledo stepped in and provided dog kibble while Miss Blanke worked to get herself back on her feet, and again a bit later when she needed another little boost.
"It meant a lot, a whole lot," she said. "It's good to know [the pet food bank] is there."
The pet food bank will be open from 6 to 8 p.m. on the first and third Thursdays of the month plus one Sunday per month at the rescue's Training and Adoption Center, 855 N. McCord Rd. in Springfield Township, beginning Nov. 1. Applications for assistance will be available online at lucascountypitcrew.com beginning Monday.
Donations of pet food can be dropped off at any Lucas County Pit Crew event in the area or placed in a designated yellow garbage can at the center. The group also has a wish list on Amazon.com through which donations can be shipped directly to the rescue.
For more information, email humanetoledo@gmail.com.
Contact Alexandra Mester at: amester@theblade.com, 419-724-6066, or on Twitter @AlexMesterBlade.
Guidelines: Please keep your comments smart and civil. Don't attack other readers personally, and keep your language decent. Comments that violate these standards, or our privacy statement or visitor's agreement, are subject to being removed and commenters are subject to being banned. To post comments, you must be a registered user on toledoblade.com. To find out more, please visit the FAQ.