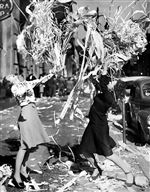 THE BLADE
Enlarge | Buy This Image
It was the cry of jubilation heard around the world.
On May 8, 1945, millions of people took to the streets to celebrate Victory in Europe Day, a global exhalation at Nazi Germany's unconditional surrender, which effectively ended World War II in Europe.
Like Paris, London, and New York, Toledo took part in the planetary celebration. Thousands poured from their homes and offices into the streets, including the two women seen celebrating in this Toledo Times archive photo from that day.
Like hundreds of female office workers downtown — many of whose husbands and friends were overseas — Helen Meinen and Muriel Stribrny left work at the Home Bank building to join the revelry on Madison Street. Tons of confetti, adding machine tape, and magazines streamed from windows above as car horns honked and citizens cheered President Truman's announcement of Germany's capitulation.
The United States and much of Western Europe celebrated V-E Day on May 8, while the Soviet Union and New Zealand observed it on May 9.
Contrary to what this photo indicates, Toledo's celebration was relatively muted compared to some other cities, and had quieted down by late that Thursday morning. Most people heeded Mayor Lloyd E. Roulet's admonition against "unrestrained hilarity."
Even so, many regional defense contractors gave employees the day off, and thousands attended local V-E Day services in churches and synagogues.
It would take another four months — and the dropping of two atomic bombs — before Japan finally surrendered on Sept. 2, 1945, and the war ended for good.
Go to thebladevault.com/​memories to purchase historical photos taken by our award-winning staff of photographers, past and present, or to purchase combinations of stories and photos.
Guidelines: Please keep your comments smart and civil. Don't attack other readers personally, and keep your language decent. Comments that violate these standards, or our privacy statement or visitor's agreement, are subject to being removed and commenters are subject to being banned. To post comments, you must be a registered user on toledoblade.com. To find out more, please visit the FAQ.