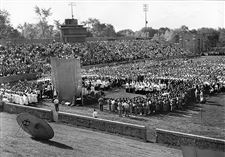 THE BLADE
Enlarge | Buy This Image
In 1953 Pope Pius XII issued his encyclical Fulgens corona designating 1954 as the Roman Catholic church's first Marian Year. That meant 12 months of celebration and veneration of the Virgin Mary, with an emphasis on acts of charity and prayers for peace.
It was a decree heeded by millions of Catholics worldwide, who gathered in the towns and urban parishes for special Masses and observances marking the 100th anniversary of the church's adoption of the doctrine of the Immaculate Conception.
On May 24 of that year, 20,000 Toledoans gathered at the University of Toledo Glass Bowl for their own mass display of Mariology. Captured in this Toledo Blade archive photo by Clarence Bailey, the convocation included 11,000 school children and 9,000 adults.
In addressing the crowd Ignatius T. Kelly, pastor of St. Agnes' Church, said: "There is neither Greek nor Roman, white man nor Negro, privileged nor underprivileged in the presence of Mary, the Mother of men."
The rosary was recited by the masses and a poem written by the Pope for the global celebration was read, followed by the crowning of a statue of Mary by the vice president of the Toledo Council of Catholic Youth.
It would be 33 years before another Marian Year was declared, this time by Pope John Paul II in 1987.
Go to thebladevault.com/​memories to purchase historical photos taken by our award-winning staff of photographers, past and present, or to purchase combinations of stories and photos.
Guidelines: Please keep your comments smart and civil. Don't attack other readers personally, and keep your language decent. Comments that violate these standards, or our privacy statement or visitor's agreement, are subject to being removed and commenters are subject to being banned. To post comments, you must be a registered user on toledoblade.com. To find out more, please visit the FAQ.