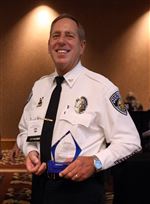 Chief Brad Weis, with the Genoa Police Department, holds his Career Achievement Award, during The Law Enforcement Officer Hall Of Fame 2018 Induction Ceremony at the Pinnacle on Thursday.
The Blade/Amy E. Voigt
Enlarge | Buy This Image
In 1980, just three years into his career as a Toledo police officer, Brad Weis was shot in the line of duty.
He recovered and returned to the force for another 34 years, and after he retired in 2014, he took a job as the police chief at the Genoa Police Department, where he still works.
"I still enjoy it," he said of being an officer.
Chief Weis and six others were inducted into the Law Enforcement Officer Hall of Fame. During the induction ceremony Thursday afternoon in Maumee, friends and family members of the honorees spoke about the impact they have had on other people's lives and the service they've provided to their respective communities.
Chief Weis and Bowling Green police detective Scott Frank each received Career Achievement Awards; Toledo police Sgt. Matthew Ayers received the Courage in Service Award; retired Toledo police Sgt. Charles E. Humes, Jr., received the Lifetime Achievement Award; Oregon police Officer Sara Shaw received School Resource Officer of the Year; Earl D. Mack, Jr., retired deputy director of the Ohio Department of Public Safety, received the Distinguished Service Award, and Deputy Sheriff Ethan Collins, who died in 2006 while working for the Fairfield County Sheriff's Office, received the Never Forgotten Award.
Chief Weis' recovery after he was shot was a long process, he said. It was tough, he admitted, to come back as a police officer, but he did for two reasons: One, he was young, just 25 years old. Two, he wasn't about to let a coward with a gun take away the career he'd been working toward for as long as he could remember.
"It's something I've wanted to do all my life," he said.
He didn't know he was nominated for the hall of fame. His daughter submitted a nomination application without telling him. When he got the call that he'd been accepted, his daughter was the one, he said laughing, who told him not to hang up the phone.
"It's heartwarming," he said. "It feels great."
Sergeant Ayers, who received the Courage in Service Award, was honored for his actions after Detective Jason Picking was shot in the face last year during the execution of a no-knock search warrant. Sergeant Ayers quickly administered aid to Detective Picking.
Jamaine Hill, who fired the shot, was ultimately found guilty of seven counts of felonious assault, each with firearms specifications, and one count of having a weapon while under disability, during a trial this past summer in Lucas County Common Pleas Court.
Former Deputy Chief Jim O'Bryant, who retired from TPD in August, introduced Sergeant Ayers during the ceremony. Mr. O'Bryant said Sergeant Ayers relied on his training from his time as a medic in the U.S. Army to provide aid to Detective Picking.
"In 33 years as a police officer, I was lucky enough to witness many, many examples of when God puts the right person in the right place at the right time," the former chief said. "And this was one of those examples."
Sergeant Ayers thanked everyone for their support and offered his congratulations to his fellow honorees. He also said that Detective Picking would have come to the ceremony if he could.
"He wishes he could be here with us," Sergeant Ayers said.
Contact Kate Snyder at ksnyder@theblade.com, 419-724-6282, or on Twitter @KL_Snyder.
Guidelines: Please keep your comments smart and civil. Don't attack other readers personally, and keep your language decent. Comments that violate these standards, or our privacy statement or visitor's agreement, are subject to being removed and commenters are subject to being banned. To post comments, you must be a registered user on toledoblade.com. To find out more, please visit the FAQ.