Kitty Kruse, credited with creating a ministry in the Roman Catholic Diocese of Toledo to serve people with development disabilities and whom the Vatican honored for her efforts, died Sunday in Franciscan Care Center in Sylvania. She was 87.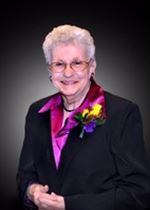 Catherine Claire 'Kitty' Kruse
She had been in declining health, her son Mike Kruse said. Until she moved into the care center 10 months ago, she was the caregiver in the family's South Toledo home of her son Sean, who has Down syndrome. Her daughter, Cathie Meade, has moved in and cares for Sean, said Mike Kruse.
Mrs. Kruse led Equal Access Ministry, which became the diocesan Office of Persons with Disabilities, retiring in her 70s. In 2011, she received a papal Benemerenti, or "Well Deserved" honor, conferred by Pope Benedict XVI at the request of then-Toledo Bishop Leonard Blair.
"Being allowed to serve God is the greatest thing that's ever happened to me," Mrs. Kruse said at the ceremony in Rosary Cathedral. "And this comes next."
She was a former board member of the National Apostolate for Inclusion Ministry.
"Because Kitty was so close to God herself, she knew that it was important for all people to know God," said the Rev. Mark Davis, pastor of St. Aloysius Church in Bowling Green.
Her son Matthew was the older of her two sons with Down syndrome. Two of her brothers also had Down syndrome. After Matthew's birth in 1960, she took part in a study over several years conducted by a University of Michigan geneticist.
Her quest for equality of access to the sacraments — and religious education to prepare for them — led her to start a program at Little Flower Church, her family's parish. She recruited high school students to help.
She then became director of the diocesan office for people with disabilities.
"It was a calling," her son Mike said. "She felt this was a mission she needed to fulfill, a drive for what is fair — the fact that we're all precious to God and everyone should have these opportunities to learn more about God."
Father Davis was a junior at St. John's Jesuit High School in 1976 when Mrs. Kruse made a presentation to recruit student volunteers. At age 16, he signed up and started to help with religious education at Little Flower on Saturday mornings. Father Davis became a friend of Matthew's and then a family friend.
"She was the first person who told me I had a vocation to the priesthood. She saw it. She planted the seed," said Father Davis, who was ordained at age 36.
She had a way of putting people at ease, her son Mike said, and saw the best in them.
"She was fun and had a great personality," her son Mike said, adding, "When she needed to be an advocate, she was a bulldog, no doubt about it."
Catherine Claire Hoeffel was born Jan. 1, 1931, in Toledo, the daughter of Helen and Vitus Hoeffel. She went through a series of losses in her young life. A brother died when she was age 2 and she was age 7 at her mother's death. Her only sister died several years later.
She and two brothers were placed by their father at St. Anthony Villa, where many residents were orphans. The trio stayed for two years. She was 13 years old when her father died in her arms after suffering a heart attack.
She'd been called "Happy" by Msgr. Michael Doyle who ran the home, and that trait persisted.
"It was a gift God gave her," son Mike said. "Her nature was to want to be happy."
She was a 1948 graduate of Central Catholic High School, where she was a cheerleader.
She and Herman D. "David" Kruse married Dec. 27, 1950. He died Nov. 3, 2013. Their son Matthew Kruse died Dec. 7, 2012.
Surviving are her daughter, Cathie Meade; sons, Mike, Jim, TJ, Sean, and Chris Kruse; 13 grandchildren, and seven great-grandchildren.
Visitation will from 2-8 p.m. Friday at the Thomas I. Wisniewski Funeral Home, with a Scripture service at 7 p.m. Funeral services will be at 11 a.m. Saturday at Little Flower Church, where the body will be after 10 a.m.
The family suggests tributes to the Diocese of Toledo's Office of Persons with Disabilities; Little Flower Church, or Hospice of Northwest Ohio.
Contact Mark Zaborney at mzaborney@theblade.com or 419-724-6182.
Guidelines: Please keep your comments smart and civil. Don't attack other readers personally, and keep your language decent. Comments that violate these standards, or our privacy statement or visitor's agreement, are subject to being removed and commenters are subject to being banned. To post comments, you must be a registered user on toledoblade.com. To find out more, please visit the FAQ.