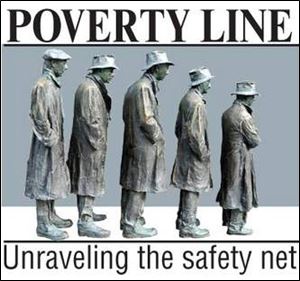 About the series:
Is the Toledo area ready? That's the question The Blade is asking in a year-long series on poverty. Are government officials and leaders of nonprofit groups working to assist the poor prepared for the thousands of new poor falling into the country's safety net every month?
Northwest Ohio and Southeast Michigan are already being battered by the crisis in the national economy – a downturn unseen here since the Great Depression. Unemployment has topped 10 percent and legions of people are projected to lose their jobs in the months to come. Requests for food stamps are spiking and there are long lines of people seeking housing subsidies, unemployment checks, and money for retraining.
Toledo is now the tenth poorest major city in the nation, trailing its neighbors Cleveland and Detroit – the two poorest big cities in the United States.
The numbers make clear the local economy is bleak, and those working with the poor say they've never seen the need they are seeing now.
Over the course of 2009, The Blade will take a close look at poverty in the region. We'll examine the agencies that receive millions of dollars from the state and federal government to help the poor, and investigate what's being done to prepare the Toledo region for what could be ahead. But most important, we'll tell you the stories of those living in poverty – their struggles, how they cope, and what they have to say.
Agencies that offer aid fear what's over horizon: (2/22/09) The line is growing for assistance, and no one seems to know where it will end. The Toledo area is badly bruised from the pounding of the national economy's problems. A Blade analysis shows that the state and federal government spent more than $800 million on programs for low-income and disabled residents last year in Lucas County, the largest population center in the region. But even with the spending on food, housing, education, and unemployment services, the people managing organizations that assist low-income families have grave concerns about what will happen when unemployment benefits collected by tens of thousands of people across the area expire.
3 agency chiefs get raises despite economic crisis: (3/08/09) As Lucas County prepares to slash staff and freeze wages, the leaders of three agencies that assist many of the county's most at-risk residents are enjoying pay raises. Amid the worst economic downturn this region has endured in a generation, the county's Board of Mental Retardation and Development Disabilities, the Children Services Board, and the Mental Health and Recovery Services Board have approved pay increases for their top officials, sending their six-figure salaries even higher.
Questions arise over need for 2 food banks in Toledo: (3/22/09) When the cupboards are running bare at the 14 food pantries he manages, the Rev. Steve Anthony looks to one of northwest Ohio's two food banks to restock his shelves. Whether Mr. Anthony, the executive director of Toledo Area Ministries, calls the Toledo Northwestern Ohio Food Bank or Toledo Seagate Food Bank often depends on the products he needs, when he needs them, and whether it will cost his organization.
RELATED ARTICLE
Calculation of jobless rate for Toledo area masks scope of crisis: (3/22/09) William Erb III is unemployed. His wife and kids knows he's unemployed. His former employer knows he's unemployed. Even the scores of companies and temp agencies to which he's sent in the last 15 months know he's unemployed. In fact, everybody seems to count the 39-year-old East Toledoan as unemployed except the people who count the unemployed.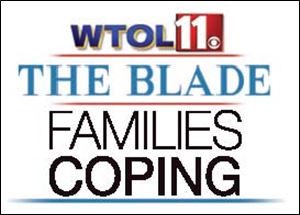 Families Coping
The Blade and WTOL-TV 11 team up to tell stories how several families are coping with hard times.
Maumee pair deal with doubt, tough lessons: (3/23/09) About two years ago, Randy Huner took a big chance at fulfilling his lifelong dream of owning a business. He quit his job at Flower Hospital and started his own small medical transportation company, never anticipating the obstacles that would arise. By last summer, he was all but out of business. His 15 employees were laid off, and Mr. Huner and his business partners were left with a $4,000 bill from the Ohio Bureau of Workers' Compensation.
Resourcefulness lets Toledo-area family survive: (3/24/09) Again, Shaun Purley can't sleep. On this night she's worried about her doctor's appointment at 9 the next morning. She frets because she can't afford to pay for it, or for the insulin and supplies she needs for treatment of her Type 1 diabetes. Such is life for the 42-year-old divorced single mom who is one of many area residents struggling to get by in a recession that has sliced across all strata of society and into all demographic cubbyholes.
Downturn endangers heritage of farming: (3/25/09) Since the Civil War, the Coy family has farmed a sprawling tract of land in Williams County, now producing corn, soybeans, and wheat. But the tradition, as well as the livelihood of Walter "Butch" Coy, a fourth-generation farmer, is in jeopardy as the family business is in bankruptcy and the farm the family has called home is facing foreclosure.
Dad makes most of layoff by enjoying time with his children: (3/26/09) Abelino Ruiz has found the silver lining in his October layoff. "I've virtually gotten to know my kids in the past few months that I've been laid off," said Mr. Ruiz, who lives in his West Toledo home with his wife, Jeanne, son, Abelino, Jr., 14, and daughters, Jenna, 8, Adriana, 6, and Angela, 5. "It's almost a bonding thing." As a factory worker at Riker Products, Mr. Ruiz would work the late shift, meaning he often wouldn't see his kids during the work week unless Mrs. Ruiz brought them to visit him during his lunch break. Now he's involved in parent groups at their schools and playing a more active role than ever in his kids' lives.
Millbury mom, sons back in parents' nest after layoffs: (3/27/09) When people ask Tricia Askins if she's available for a get-together, she likes to crack a little joke."I've gotta check with my boss," she'll say. But there's no boss now, and there's no work schedule. She was laid off March 12 from her job at the Libbey Inc. glass factory for the third time in seven months, and she expects the furlough to last at least until June 21. Rumor has it that another layoff is coming in August. No joke. "I'm trying to use humor with it," Ms. Askins said gamely as she sat at the kitchen table this week in the Millbury home of her parents, Bob and Kathy Askins. It's the home where she grew up - and since January, it's been her home as well.
Grateful couple striving to aid those less fortunate: (3/30/09) A lifetime of saving, investing, and thinking twice before spending has left retirees Al and Rose Geha sitting financially pretty in an upscale Waterville neighborhood. But they're not sitting idle in those plush chairs, somewhere off on the sidelines of the recession that has crushed so many people. They're trying to help those who aren't as comfortable as they are. And they're smart enough to know that one's fortunes can change in a flash.
Burdans ease for single mom: (4/27/09) What a difference 10 hours makes. When it's 10 more hours of work that pumps up your paycheck, it means ice cream cones on Dollar a Scoop Day, Happy Meals on $1.50 Family Night, a bill that gets paid rather than set aside. It means an easing of the financial boundaries one has to live within when times are tough. Over the last month, Shaun Purley, 42, of West Toledo, has been getting 10 more hours every week at her $12.50-an-hour job as a human resources representative for Homewatch CareGivers. She works five hours a day, Monday through Friday, up from three days a week.
Furloughed mom keeps her chin up: (4/28/09) Tricia Askins was idled by Libbey Inc., but she hasn't been idle on her own in the weeks since then.Laid off from her job at the glass factory March 12, she spends a lot of time working. She's just doesn't get paid for it. These are labors of love: installing a fence with her dad, doing yard work at a friend's house, helping another friend pack up for a move, and making pancakes at a breakfast at her fourth-grader's school, among other things. "If you don't make yourself busy, then you sit around feeling sorry for yourself, and I was never raised that way," said Ms. Askins, 36. After declaring bankruptcy last fall and being laid off three times in seven months, the divorced mother of two gave up her apartment and moved into her parents' home in Millbury on Jan. 1.
Hopefulness takes root on family farm: (4/29/09) For now, at least, the farmhouse that has been in the Coy family since the 1800s is safe.Facing bankruptcy and foreclosure, Walter "Butch" Coy sold 75 acres of farmland and a tractor this month. The proceeds helped satisfy some of what he owes to the banks pursuing the farm that's been in his family for four generations. In the last few years, the Coys have fallen on hard times as the costs of farming have risen and the banks that hold their loans have become more aggressive about collecting. The sale of the 75 acres of the family's more than 200 acres means the Coys will farm their land for another year.
Struggling family eager to help others live on a budget:(4/30/09) Day by day, the Huners in Maumee are getting by. Randy Huner has a new part-time job at his church doing janitorial work that will help bring in some money. Candy Huner is going to teach a new class on how to shop on a budget at Rossford Public Library. "I can't say we are doing terrible," said Mrs. Huner, who cleans homes and runs a Web site, dealwithitsimply.com, on simple and cost-effective living. "We are doing great. I'd say the Lord has a plan for us." The Huners have struggled since Mr. Huner's business closed last summer. The medical-supply firm he started 18 months earlier fell victim to the rising costs of running a business in a tough economy.
Ruiz family feels blessed to have found community aid:(5/1/09) Drowning in bills, the Ruiz family almost had the water to their home turned off. The family, which has been reeling financially since Abelino Ruiz lost his manufacturing job in October, couldn't come up with the $1,100 they owed on their water bill. So in early April, the water company sent a truck to their home to turn off their water. "The reason they didn't shut us off is because something was wrong with the cap," wife Jeanne said. That same day, the family worked out an arrangement to pay $300 to keep their water on.